Blogging is a great way to share your thoughts with the world through texts and also a passive income business model that can fetch you six figures and above when practised with proper education.
Thanks to the internet, it's now easier than ever to start your own blog
But starting a blog requires some time and investments in other to achieve this level of success.
Blogging without a domain means that you can create a blog without having to purchase your own domain name.
Instead, you'll use a free host, which will provide you with a website address that you can use to publish your blog posts.
While there are some limitations to blogging without a domain, it can be a great way to get started with blogging and experiment with different platforms without spending a lot of money.
And the fact still remains the same, you can actually start a blog even if you are on a zero-dollar budget and still make money.
So in today's post.
I will uncover some of the free blogging platforms available and provide actionable tips on how to blog without breaking the bank.
If you want to take blogging as a full-time income, or a professional blogger, these tips work for everyone.
What Is Blogging Without a Domain?
Blogging without a domain simply means that you create a blog using a free host instead of trying to purchase a domain name.
When creating a blog with a free host, you'll be given a website address that allows you to publish your blog posts.
For instance, when you create a blog WordPress.com, your website address might be something like "yourblogname.wordpress.com"
With free hosting services, you don't have to worry about purchasing a domain name, which in most cases can be expensive and confusing for newbie bloggers due to its technical knowledge.
Instead, your primary focus is on creating content for your blog.
With that, here are some common misconceptions about anyone who wants to start a blog without actually having a domain.
Do You Need A Domain Name For A Blog?
Obviously, you need a domain name for a blog but if you find yourself in a situation where you can not afford to purchase a domain name, then you can still start and make money blogging even without a domain name but with a subdomain instead which comes with a free plan (more on that later).
Can You Start A Blog Without a Domain Name?
You can start and grow a blog without actually having a domain name and pay for hosting as there are several platforms that give you the opportunity to create a blog without having to pay a dime.
Some of these websites include Medium, Linkedin and Blogger (Blogspot).
How to Create a Blog Without a Domain
To start blogging without having to pay for a domain and hosting, you need to use the following platforms.
Medium
Linkedin
Blogspot (blogger)
Medium Free Blogging: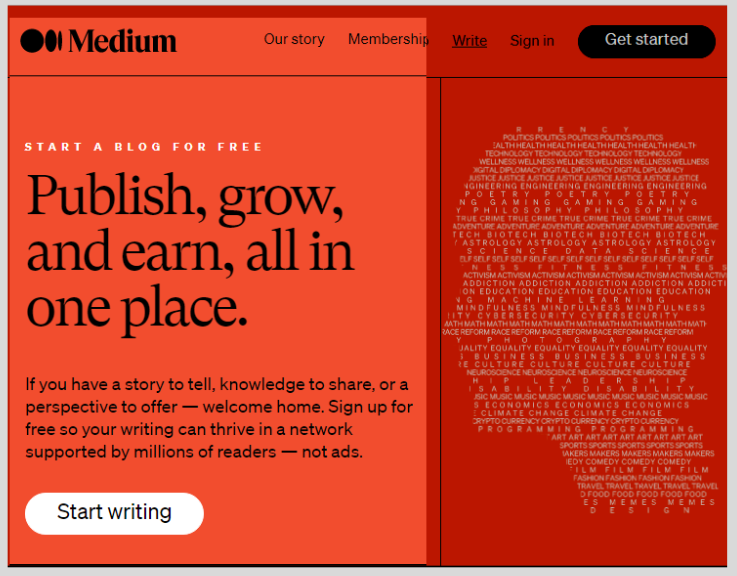 Medium is a free self-publishing platform that allows bloggers who cannot afford to pay for a domain and hosting to blog for free.
To get started: Sign up on Medium with your Gmail account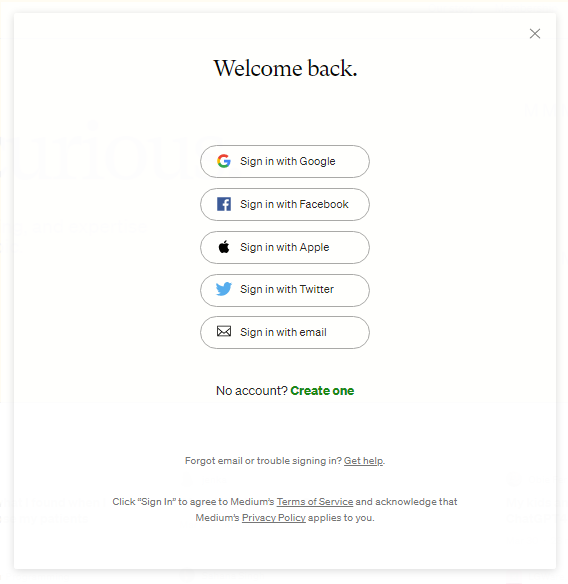 and Start Publishing content.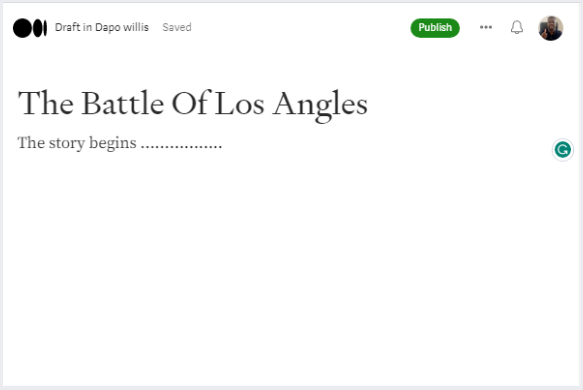 Benefits Of Publishing On Medium:
Medium is a great way to blog without spending a dime on domain and hosting, but there is more to it.
It comes with a lot of benefits that a traditional wordpress comes with.
You can also rank your medium blog on Google and get Good traffic as you can see below.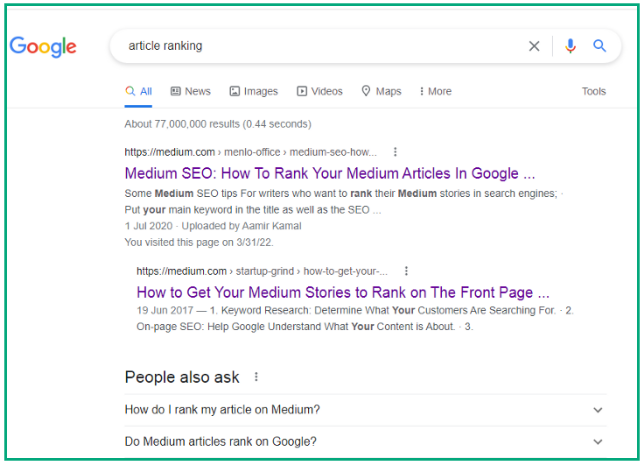 Monetize your blog by adding and promoting affiliated links in posts on medium
Make money through the medium partner program.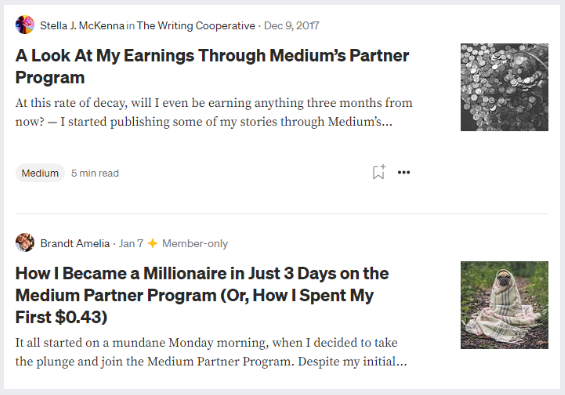 And also grow your email lists as your traffic grows.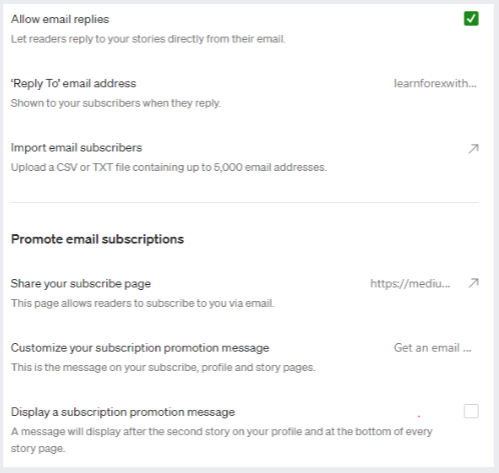 Pros & Cons Of Blogging On Medium:
In as much as a medium offers you free services, there are also some limitations to it than blogging on a wordpress website.
Pros:
Has a high authority in terms of SEO value and can easily rank on Google for any keyword you optimize it for.
Allows you to engage with your emails lists like that of a traditional wordpress blog
You can make money with the medium partner program
Easy to use interface and requires no external plugins and tools
Free custom domain and hosting
You can also engage with users through comments sections
Cons:
You are not in full control of your free website (if you go against their rules, they will delete your entire articles without your consent)
Limited to customization that can help you design your blog
Google Recognizes Medium Instead Of The Writer
Learn More: Medium Vs Blogspot: Which best suites my Blogging Needs
Linkedin Blogging:
If you are also looking for an alternative method to medium, and also a blog without domain and hosting. Linkedin should be your second option after medium.
Linkedin is just not limited to employment-focused alone, you can also blog on Linkedin as well.
As you can see.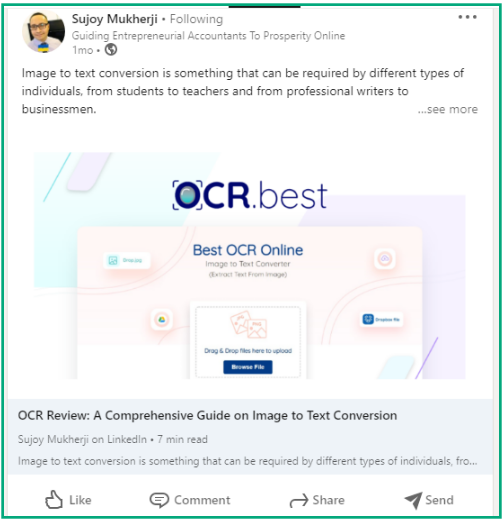 And it is also authoritative in terms of SEO value making it easy for them to rank on Google for some keywords.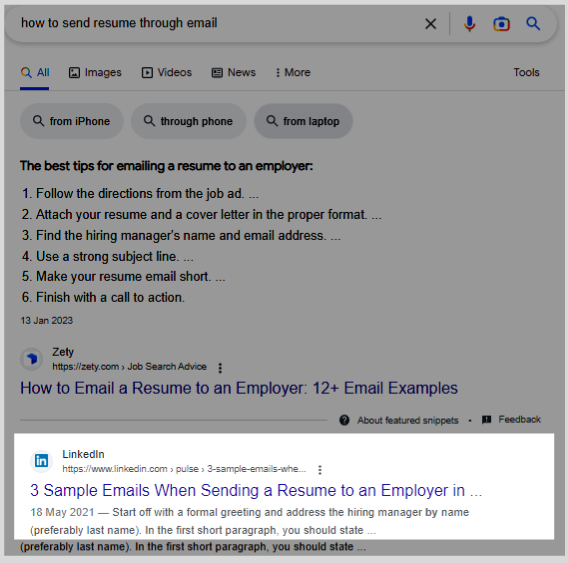 To get started: Sign up on Linkedin with your email address
Locate the article section as shown below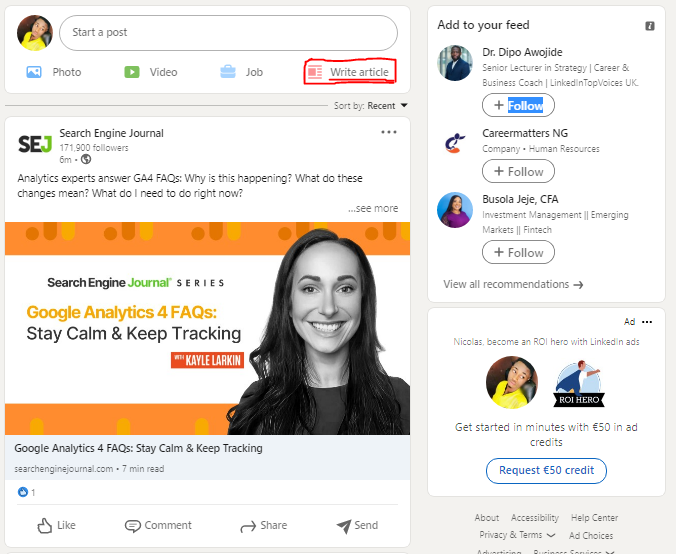 And start publishing articles.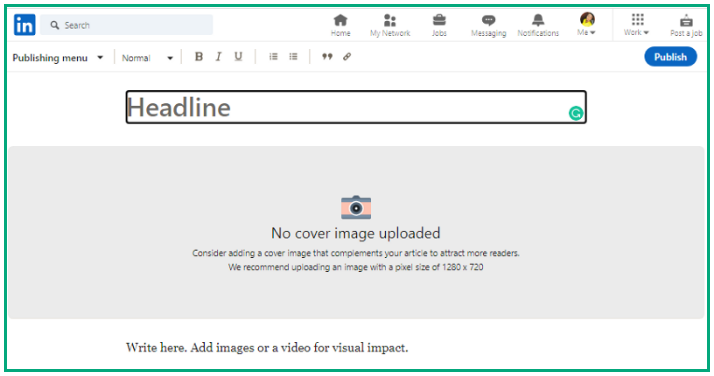 Benefits Of Blogging On Linked In:
Blogging on Linkedin comes with a lot of benefits that enable you to make money even without paying a penny.
Linkedin was designed as a platform for job seekers and employment-focused but they also give users room to explore their blogging potential.
Due to this High authoritativeness in the eyes of Google according to ahrefs.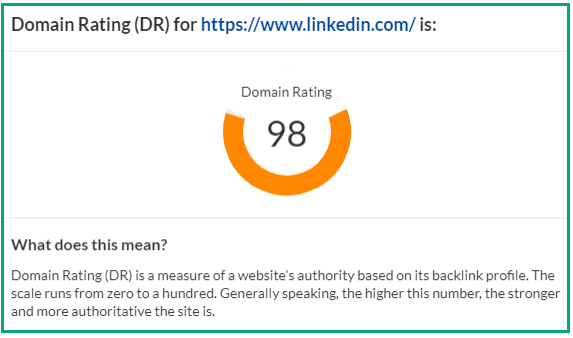 They can easily rank for keywords on Google without having to build backlinks like that of a traditional blog.
I will tell you why?
Google doesn't trust websites with less or low authority especially when it comes to ranking, and with that, they won't rank you for some keywords, but in most cases they do.
This is because you are not well-established as an authority in a particular niche and building authority comes with a lot of work, effort, time, much money in most cases.
This approach can be every blogger's nightmare and that is where sites like LinkedIn, the medium comes into play.
They have the authority, so ranking becomes easy.
Not just ranking alone,
You can also build an audience and gain more eyeballs to your Linkedin Profile.
Pros:
Free and easy-to-use interface
rank on search engines
Provide more eyeballs to your Linkedin profile
Linkedin can also be a great platform for microblogging
They don't delete articles like that of medium
Cons:
Monetization is through affiliate marketing only (adding affiliate links to article ranking for an affiliate keyword)
You Are Not In Full Control Over Your Contents
Proper SEO techniques are limited
You cannot build a brand
Google Recognizes LinkedIn Instead Of The Writer
You cannot design your blog
Learn More: The Guide To Linkedin Blogging
Blogger Blog (Blogspot):
Blogger was founded by Google in 1999 and is Google's very own platform for blogging.
It is a platform suitable for bloggers to start blogging with zero-dollar budgets.
Worrying about spending a dime on domain and hosting? no problem, Blogspot is a free blog hosting service that includes a free subdomain for you.
Even with a Blogspot subdomain, you can still monetize with ads networks like Google Adsense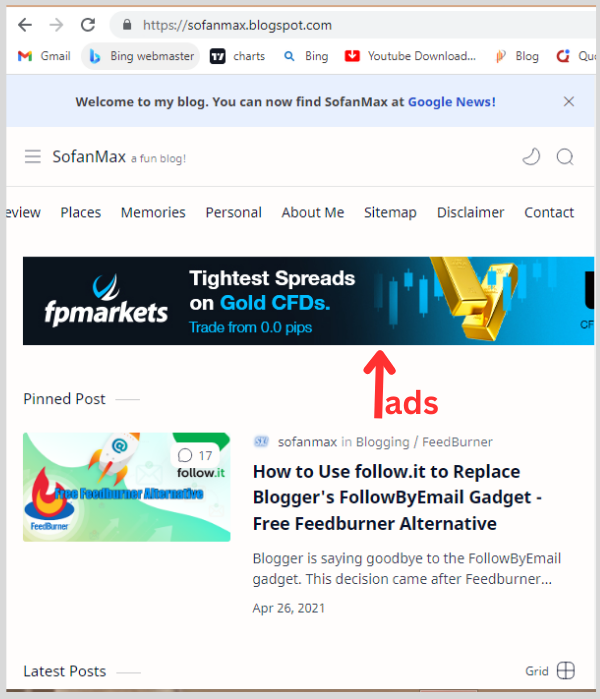 Benefits Of Blogging On Blogspot:
Blogging on Blogspot blogs comes with a lot of benefits that Linkedin and Medium could not offer you.
Blogging is not just all about writing, blog design also plays out in your blog success and Linkedin and Medium blog doesn't offer you these services.
So it is possible to have a beautiful blog on Blogspot with over 200+ templates and customizations that suit your design needs.
On the other hand, Blogspot is SEO friendly and can easily rank on Google for your target keyword when your SEO tactics are put in place.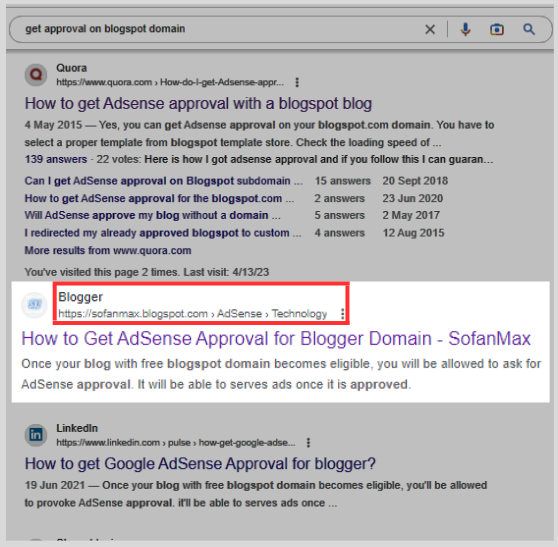 Knowing fully well blogging with a free Blogspot.com has its own limitations making it harder for you to rank for more competitive terms, you can still purchase and use the Blogspot free hosting, and that goes by the question.
Can I Use My Own Domain With Blogger?
Yes, you can use your own domain with Blogger (Blogspot) and leverage their free hosting services. To be able t achieve this, you need to purchase a domain from a domain registrar, such as GoDaddy or Namecheap, and redirect the CNAME record in your domain's DNS settings to your blogger blog and enjoy your blogging career without limitations.
Here is a step-by-step process on how to connect your own domain with blogger (Blogspot):
Purchase a domain name from a domain registrar like Godaddy or Namecheap.
Log in to your Blogspot or blogger dashboard and locate the Settings icon > Basic section of your blog.
Below the "Publishing" section, click the "+ Setup a 3rd party URL for your blog" link.
Fill in your domain name in the field provided and click "Save."
You will see a set of instructions for setting up your domain. Follow those instructions to create a CNAME record in your domain's DNS settings.
Go back to the "Settings > Basic" section of your blog and click the "Edit" link next to your domain name.
Check the box next to "Redirect [yourdomain.com] to [www.yourdomain.com]" if you want to redirect your non-www domain to the www version of your domain (or vice versa).
Click "Save" to save your changes.
After completing these steps, your Blogger blog should be accessible through your custom domain name. Keep in mind that these changes to DNS records usually take 24-48 hours to be active.
Pros Of Blogging With A Blogspot Blog
It is free
can be monetized with ads networks like Google AdSense even with a free blogspot.com subdomain
SEO friendly
Cons Of Blogging With A Blogspot Blog
Building authority on a Blogspot blog takes time
Requires more backlinks to rank higher for more competitive keywords
You must follow their terms and conditions
blog customization is limited compared to wordpress but quite decent compared to Medium and Linkedin
The free blogspot.com domain doesn't perform well on Google
Why You Should Consider A WordPress Blog
The reality behind blogging on Linkedin and Mediums is that you don't have full control over the activities of your own blog and you are limited to a lot more functionalities and monetizations a traditional wordpress blog could offer even though it costs you some money.
So when you consider opening a wordpress blog due to these limitations, you should have it in mind that you are to pay for
And trust me, it only costs you a fraction of the money, I recently published a post where I launched my wordpress blog with less than $35 spent and made $100% ROI.
What is A domain name?
A domain name is the URL address of your website e.g. www.domainurl.com.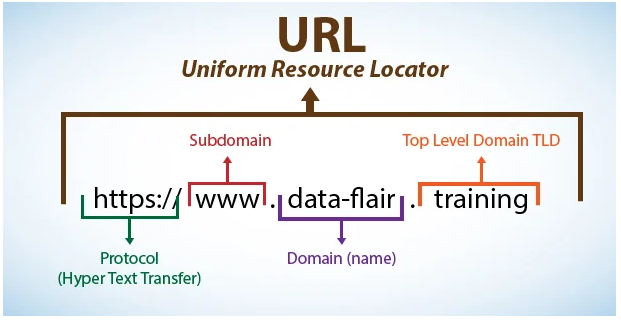 Learn More: Everything You Need to Know about Domain Name
What is Hosting?
Hosting contains the data and files stored on your websites.
Without hosting, all the articles and information on your blog cannot be stored and accessible.
Why is Web Hosting and Domain Necessary For A Blog?
Without web hosting and a domain, it is impossible for people to locate your website and also see the information your website contains.
Unlike Medium which only gives you a free subdomain for you to be able to blog on their platform while Linkedin does not.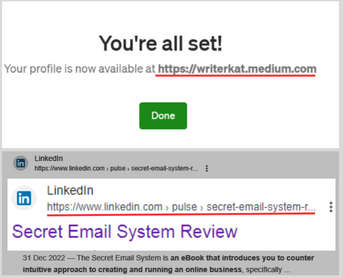 Learn more: Everything You need to know about Subdomains
The Following Reasons Why You Should Start a WordPress Blog:
With that, I am going to be listing out the most important reasons why you should consider a wordpress blog instead of blogging with other hosted blogging platforms like Medium and Linkedin you absolutely don't have full control over.
Worpress Offers You More Flexibility:
Due to the fact that wordpress is an open source, users can design and create code specifically for their blog, and also add a specific function.
Building A Brand:
It is easy to build a brand on a worpdress website than blogging on Medium or Linkedin.
You have full control over the activities of your websites when blogging on wordpress blog, unlike Medium and LinkedIn where it is a platform already established by someone else.
This is something you can not do on Linkedin, Medium, and free Blogspot blogs.
Design:
The design of a website plays an important role in brand and user experience.
WordPress, it gives you the opportunity to design the look of your websites with a drag-and-drop feature and unlimited customization to make the design appealing to your readers
This is something you can not do on Medium and Linkedin.
Frequently Asked Questions (FAQs)
Will my blog show up in search engines if I don't have a domain name?
Yes, your blog can still show up in search engines Google without having your own domain name.
But in most cases, it may be harder to rank well in Google search results without a domain name, as search engines like Google generally prioritize websites with their own domain names.
Sites Like Medium and Linkedin can help you rank higher due to their authority in Google's eyes while on a Blogspot blog, you may have a hard time building your authority from scratch which can cost money.