In Today's article,
I put Robinize software to test, and the results……………
Increase in search traffic for my new websites and it also got me my first page Google rankings.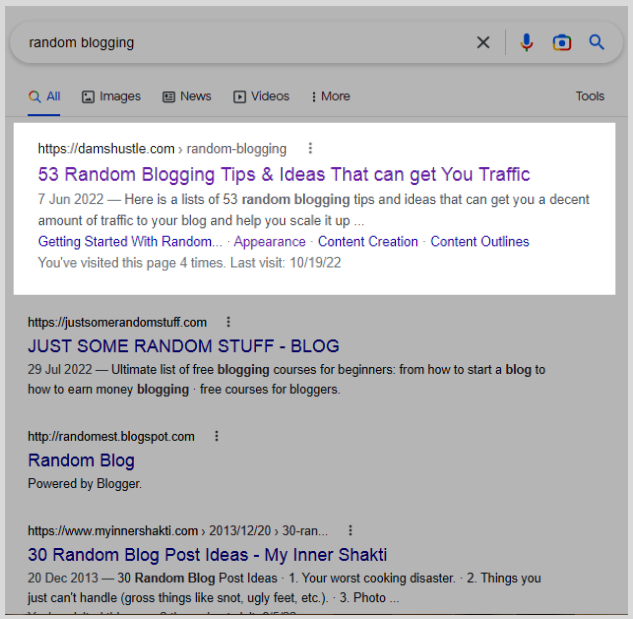 So in today's posts,
Am walking you through an in-depth Robinize review and also help you determine if purchasing the software is going to be a very good decision to make.
That said.
Ranking on Google for a particular Target Keyword can be a huge pain, especially if you are a newbie in the seo industry.
With that, there are over 200 ranking factors Google looks out for before giving you that ranking boost.
But amongst all, is the On-page seo.
This is simply a seo strategy to put in play if you really want to rank higher on Google and increase your organic traffic.
And trust me, they are Quite a lot of these metrics.
all the way from inserting keywords into Headings, meta descriptions, section subheaders, and more.
Remember, "Google is not Human but only a machine".
So there are certain structures, related keywords, and phrases Google is expected to see in your article, so they can understand what your topic is all about and rank you better for what you are targetting.
But finding these phrases can be time-consuming and most cases almost impossible.
But thanks to this simple SEO tool called robinize, we can now figure all this out with a click of a button.
Moving on.
What Is Robinize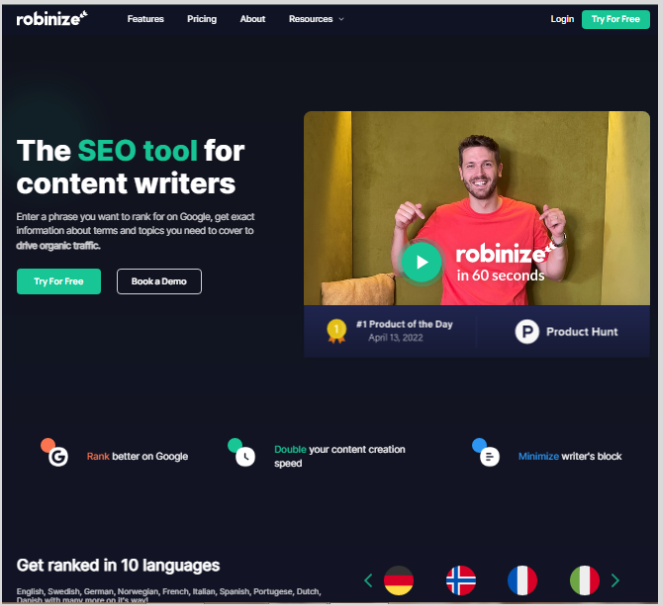 Robinize is a cloud-based seo software that helps you "optimize your written posts" for search engines like Google.
When you insert a particular keyword (random blogging) into this tool and (Generate a report),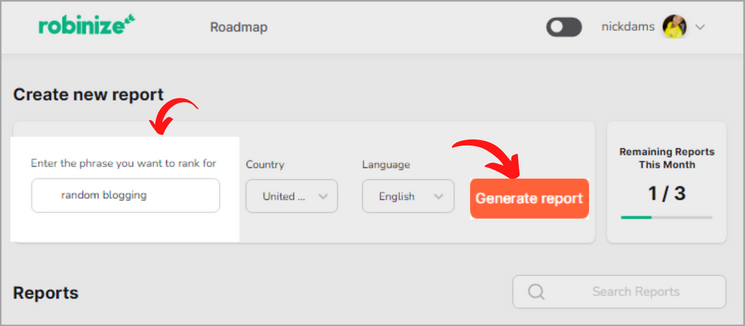 It analyses the top 10 ranking article pages on the web (Google search results) for that target keywords.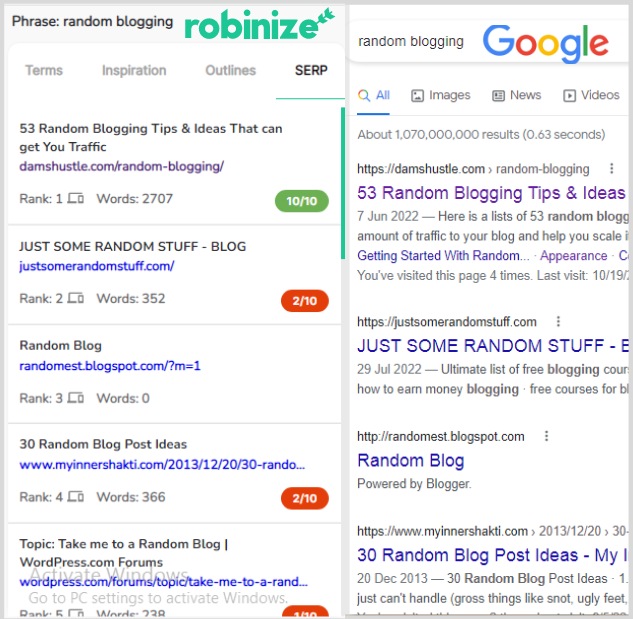 And provide data-driven reports on how you can optimize & structure your blog content based on the analysis gotten from those sites ranking for that search term.
And present those analyses to you on a silver platter so you can optimize your post in that manner and get a chance to rank on Google's first page results.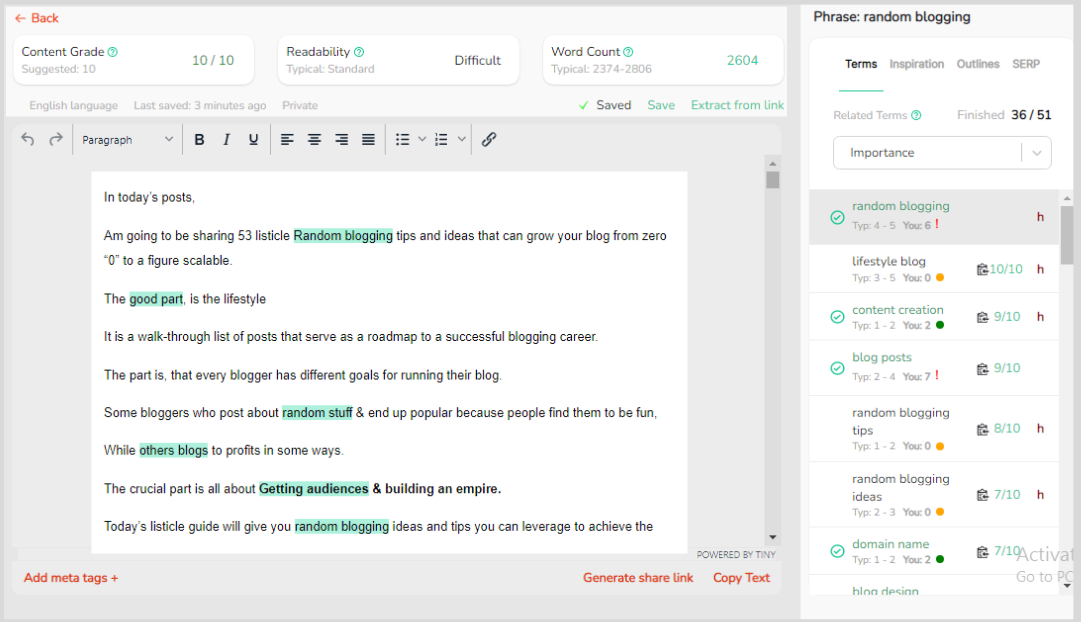 Easy breezy…….
Key benefits of using Robinize Software:
If you are a blogger, content marketer, content writer, freelancer, or any form of content creation, which goal is to seo optimize or content optimization for higher rankings.
Then you will find the following benefits of using Robinize
Gives you reports on how to optimize your posts for Search engines
Provides you with semantic (LSI) keywords that help Google understands your page
Scale your contents on 1-10 grades, the higher, the better.
Allows you to structure Your content in a manner Google loves to see.
But these are all one piece of the Puzzle.
As an SEO expert,
There are quite a few features I find very useful with this tool and that leads us to the next section.
Robinize features
Semantic Keywords Related Terms
Inspiration feature
Content outlines
Content Grades
I will cover them all in a minute.
Semantics Keywords Related Terms:
Semantics keywords or LSI keywords are keywords phrases that Google is expected to see in your article, so they can understand your page better as I mentioned earlier.
Now Thanks to Robinize,
I was able to discover some important semantic keywords like blog ideas, random stuff, the good part, etc.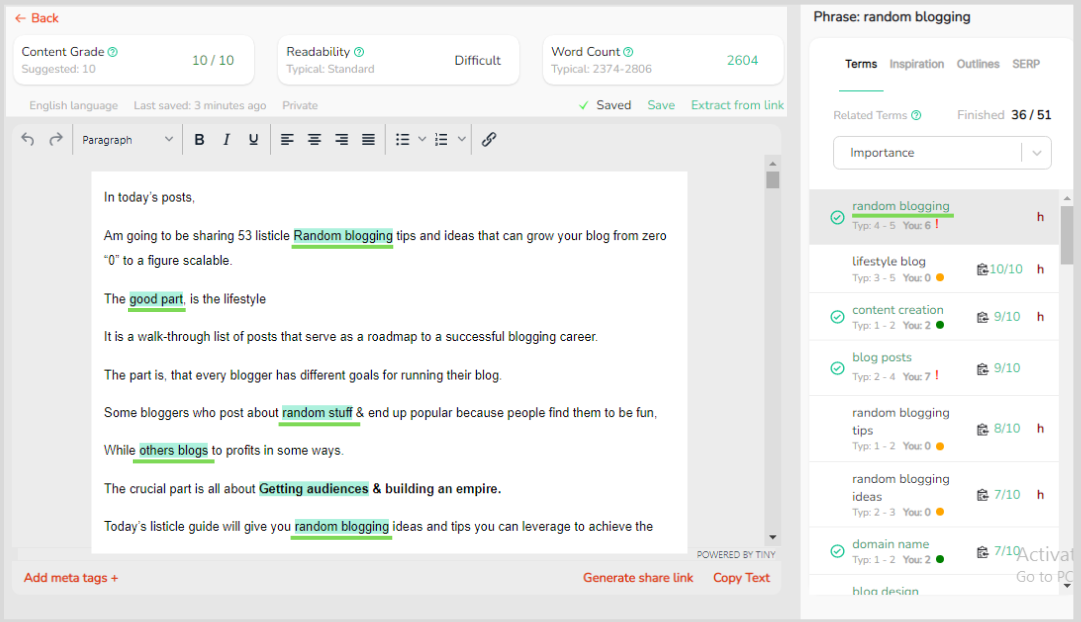 And that helps me rank Higher on Google for my target keyword.
Inspiration Feature: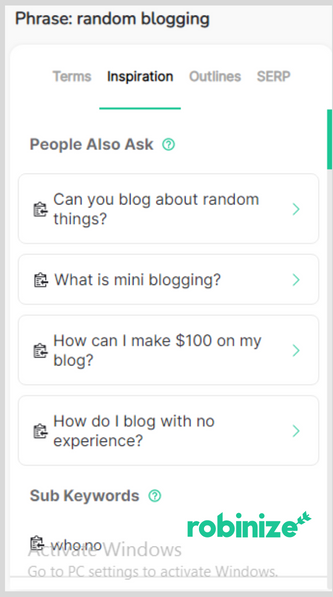 What more do we need when we run out of content ideas?
The inspiration feature is a Goldmine, what does it do?
It contains the People also ask section and Sub keywords data gotten from search.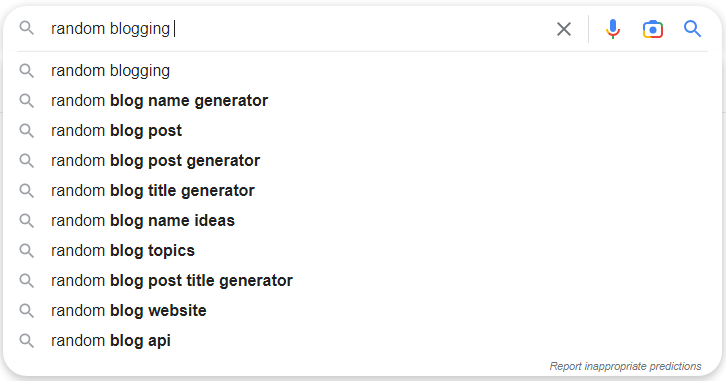 All this information can be very useful and make a very nice addition to your page when optimizing for the right keywords
Improves your content Quality and can be a good fit for H1 & H2 better headlines in our posts.
Content Outlines:
This section summarizes all of your Top competitor's contents structures and outlines.
Who are these Top competitors? Those that rank for the keywords you are targeting.
So it fetches this Data from Google and shows them to you, so you can structure your content in that manner.
I find this helps a lot.
Content Grade: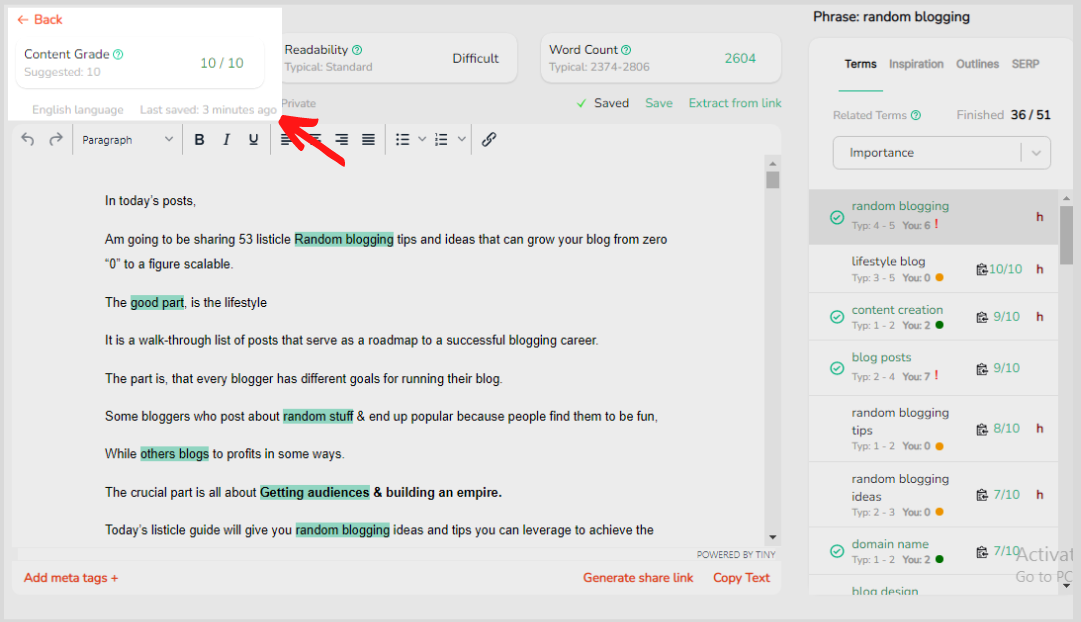 It is a grade assigned to you that shows you how well have your posts been optimized based on the data-driven simple reports robinize provides.
So the more you leverage this information provided by these tools into your contents
The higher the score, the better chance of rankings higher.
Other Cool Features
Word counts: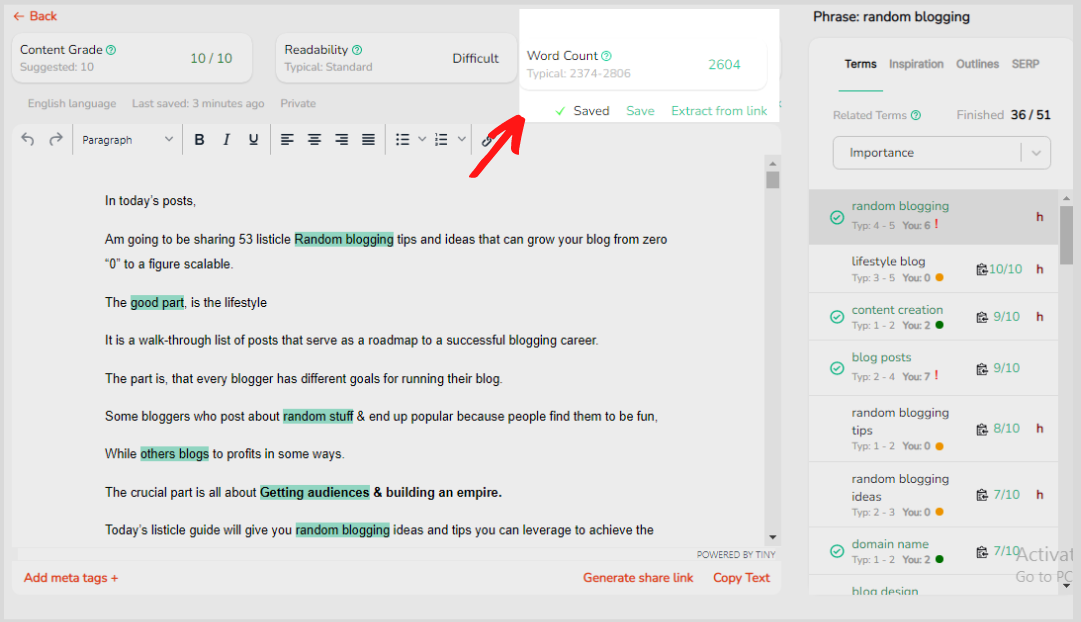 Shows you an estimated word count of the total posts ranking on Google for that keyword.
But from experience, I usually don't find it necessary only it is required to create in-depth guide articles.
Readability Score: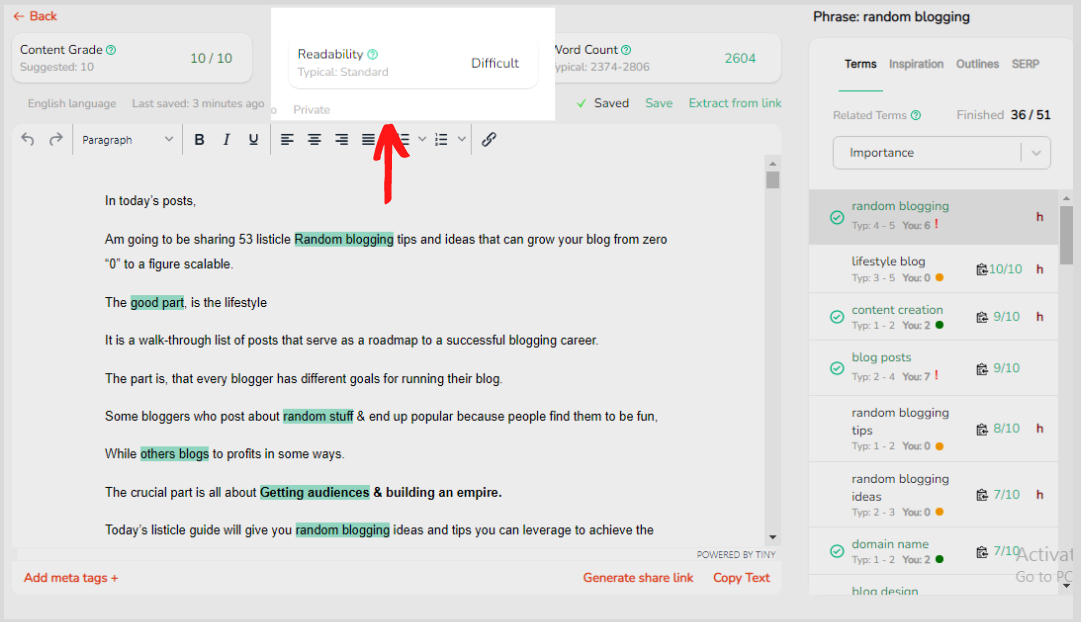 There are certain levels of complexity Google is required to see in your content.
So this option helps you figure out if you are on the right track or not.
Either way, it is up to you to decide if actually you are influenced by this option.
As for me, I don't think so.
As long as other seo processes are put in place, am good.
Robinize Pricing Plan
I will be fair,
When it comes to pricing, Robinize's pricing plans are compared to its competitors like surfer seo.
It all boils down to their free plan and then the monthly plans way down to the annual plans, but they don't offer lifetime access.
You can check out the images below.
For Monthly plans

And The Yearly Plans
And if you want them to do the work for you, the enterprise plans allow you to speak with their specialist directly and the price varies based on negotiation between both parties.
Robinize Pros & Cons
Pros:
As I mentioned earlier, the following prons are benefits of using these tools are
Gives you reports on how to optimize your posts for Search engines
Provides you with semantic (LSI) keywords that help Google understands your page
Scale your contents on 1-10 grades, the higher, the better.
Allows you to structure Your content in a manner Google loves to see.
very cheap to purchase compared to surfer seo, it's alternative (more on that later).
Cons:
Even though I find these tools interesting, there are still some developments and some interesting features I would recommend robinize to set in place, and mostly their competitors are actually doing it.
Plagiarism checkers to check for plagiarism as you write along.
Inbuilt keywords research tools to tell you the search volume of the keywords you are targeting
Does not have an AI content generator, (Learn more on How to start blogging without writing any articles)
Keyword tracking tools and analysis list of terms' exact information
Common Robinize comparisons
In as much as robinize offers all these amazing services to users, there are still Quite a lot of similar tools that offer the same features like that as robinize, and they are
Surfer SEO
Froze etc…..Learn more.
What Do You Think?
There you have it: my robinize review.
I have done diligence in covering, pricing plans, pricing details, how I can use these tools for content optimization, and more seo tips on how to leave this tool.
Now I'd like to see what you have to say about it.
Did it help you make a well-informed decision, if so? use them in line with your keyword strategies.
And if didn't provide you with the exact information you need.
Let me know in the comments section below.