I am a hustler, juggling three side hustles to provide for myself and put food on the table.
I offer SEO services to clients, work as a digital marketing specialist, and freelance in various capacities.
Additionally, I am involved in trading.
Due to my expenses, I rarely have time for myself, and I constantly strive to earn more money to meet my needs.
These side hustles have been instrumental in solving some of my financial problems, but they are still not enough to create something substantial for myself.
In August 2021, I launched this blog, which you are currently reading, and I consider it a success because it is the only blog I have found success with after three years of blogging.
Got Ads approval.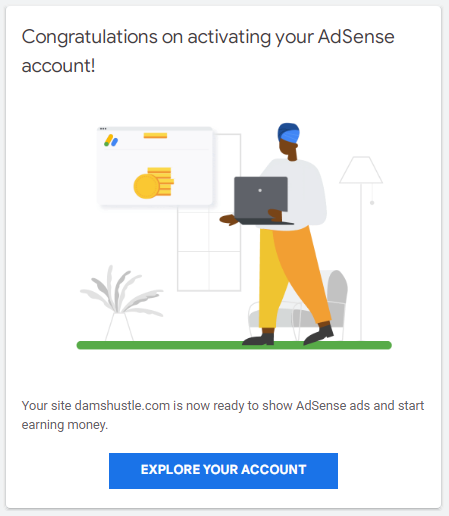 Seeing some little growth in traffic.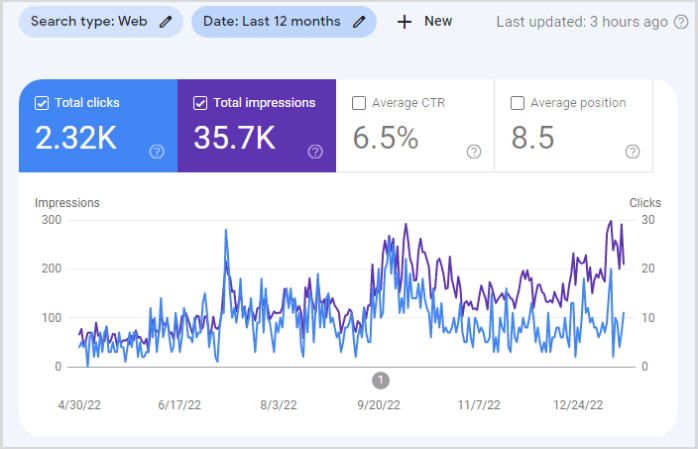 Made my first $100 from it.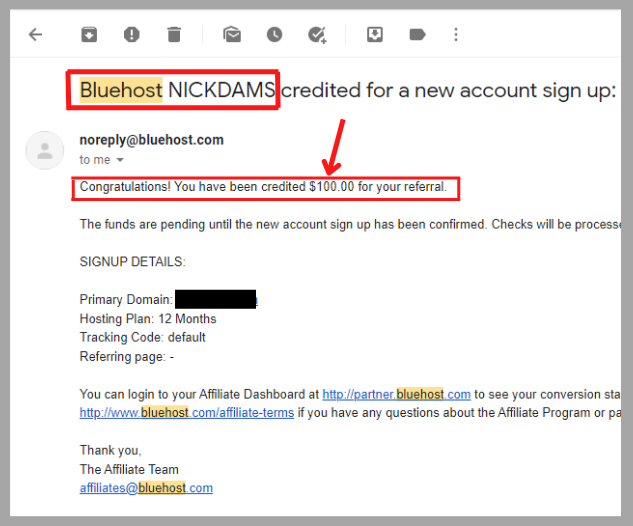 While the blog's traffic may not be remarkable and the income not as substantial as expected, I can see the potential for generating five to six figures in this blogging space.
It took me two years of hard work on the blog before I started seeing results.
There were moments when I almost gave up, but I persevered.
I didn't view blogging solely as a means to make money fast; I took it up as a hobby and a way to build a sustainable business.
And that leads us to the main question.
Is blogging a Good Hobby?
Yes, Blogging is usually a rewarding and fulfilling hobby for numerous individuals. It also offers users the opportunity or a platform to express themselves through written content, passing information, sharing knowledge and experiences, connecting with like-minded individuals, and potentially even earning an income.
Yes, I know I am not making a fortune out of it, but I know there is a lot more opportunity blogging as a hobby can offer than just the hobby itself.
Over the past 3 years of my blogging career, I have put out a list of why blogging can be a good hobby:
Your Earning Potential Blogging Is Unlimited
In this realm of blogging, I have witnessed more than I could have ever imagined.
Let me clarify, your potential earnings from blogging extend far beyond limits, offering various avenues for monetization.
I recently came across a YouTube video of a prosperous blogger named Adam Enfroy, who revealed how he earned $5,000 from a single article.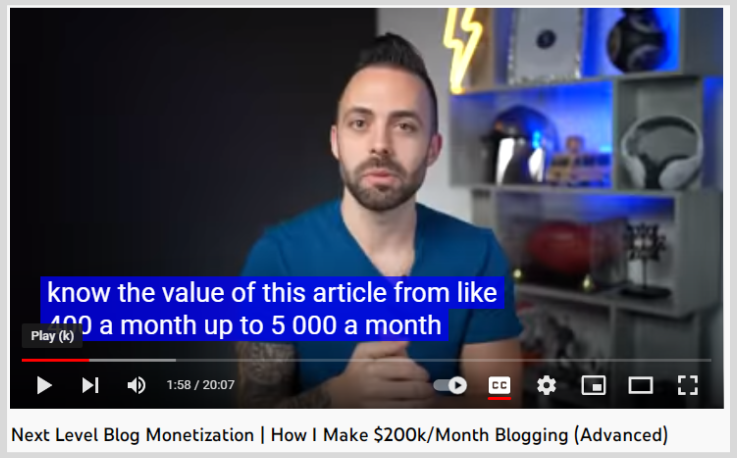 Needless to say, I was astounded by the endless possibilities a blog could offer, and I encourage you to check out the video.
To be clear, Search for the top 10 successful blogs on Google, you will find a list of renowned blogs and the incredible fortunes they accumulate—truly mind-boggling amounts.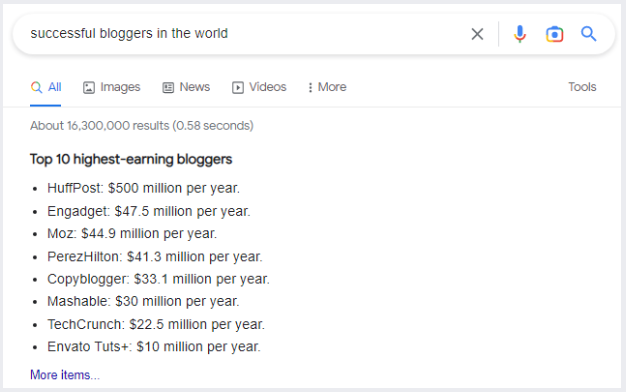 The sky's the limit, and there is ample opportunity to create a substantial income from your hobby blogging.
You can explore monetization methods such as ads, as mentioned earlier, along with affiliate marketing, sponsored posts, and more.
Blogging Has The Biggest ROI
Blogging offers the highest return on investment (ROI) that exceeds all expectations. When approached correctly, it can serve as a full-time income-generating model.
Consider this scenario:
Setting up a blog costs less than $100, and it presents an endless array of opportunities to earn money as a hobby.
Believe me, that initial investment is the only expenditure you'll need for your blog, and the potential for growth is immense.
Speaking of which, I published a post highlighting the 19 essential tools for your blog's success.
Remarkably, all of these tools are completely free to use. This aspect adds to the allure of blogging and makes it a reliable business model with low capital costs in the long run.
Your Hobby Blog Can Become An Asset
Believe it or not, your blog is a valuable asset, meaning that your hobby blog can be sold for significant profits.
Let me explain why:
Many companies and brands are not willing to start from scratch in building an audience.
You see, Growing a dedicated audience takes a substantial amount of time, and these companies either lack the time or the patience for it. so they use their money to acquire an already-built business that has an existing loyal audience within their niche.
This holds true for the world of blogging as well. People buy blogs just as brands do, and the prices involved can be substantial, ranging from tens of thousands to even multiple six figures.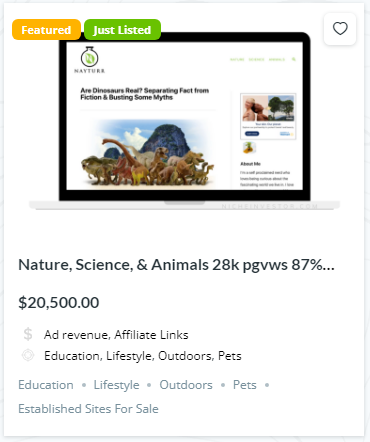 For instance, you can take a look at how much this particular website is listed for sale on niche investor platforms, with an asking price of $20,500.
Your Hobby Blog Can Become A Full-Time Business
An average American makes $69,560 a year according to fortunly, which means, they earn $5796/month.
Now imagine if you were able to generate 10x of these figures in a month. trust me it's 100% possible with blogging.
A post by Ryan Robbinson, a six-figure blogger shows that on average $30,000 to $50,000 in the first year, and the list goes on and on.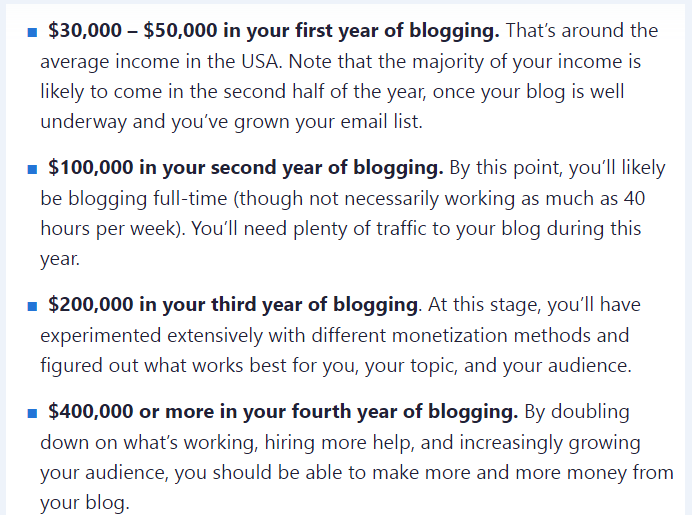 Let's be realistic here. While the mentioned statistics may not apply to all bloggers, it's important to note that making a substantial income during the first year of blogging is rare.
Personally, it took me two years to earn my first dollar.
However, this doesn't mean that you can't achieve similar results.
It simply requires dedication, persistence, and the right strategies. Building a successful blog takes time, effort, and continuous learning.
By consistently producing high-quality content, engaging with your audience, implementing effective monetization strategies, and staying committed to your blog's growth, you can gradually increase your earnings and work towards achieving impressive results.
While it may not happen overnight, with perseverance and a willingness to adapt and improve, you can pave the way for significant blogging success in the long run.
Blogging Improves Your Writing Skill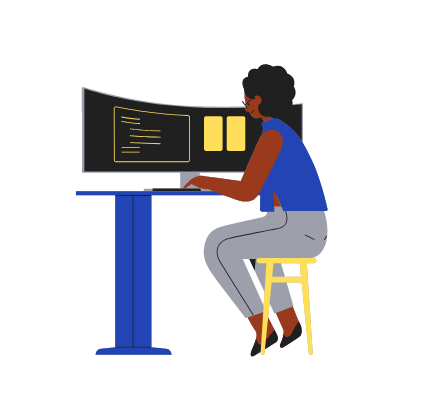 The key to improving as a writer is to write frequently, and blogging provides an excellent platform for this practice.
The more you write, the better you become at the craft of writing.
When you write for an audience, you have the opportunity to connect with them on a deeper level. Your words resonate with a potentially large number of people who come across your content.
By using third-party tools like analytics, you can track the reactions and engagements of your audience. These tools help you understand how often users spend time reading your content.
Typically, the longer they stay engaged, the more they enjoy your writing. Regardless of their reaction, you can leverage the insights provided by these analytics tools to continually improve your writing.
They allow you to identify areas where you excel or where you may need to make adjustments.
In summary, blogging offers an avenue for regular writing practice and the ability to receive feedback and insights from your audience through analytics.
This feedback loop can be immensely valuable in honing your writing skills and delivering content that resonates with your readers.
Build A Brand
Blogging is a great medium to showcase your brand, but it's not just limited to that, you can also build a brand through your blog as a Hobby.
By consistently creating highly valuable content for your readers from your blog, you are showing some proof of leadership, expertise, and authority in your niche.
This helps build brand credibility and is also considered the most unique way to build a brand.
Expand Your Knowledge On Other Digital Marketing Skills
During my early days of blogging as a hobby, I never anticipated the extent of knowledge I would gain in another aspect of digital marketing. Blogging has been a tremendous learning experience for me.
One significant area I discovered along the way is the importance of leveraging email marketing as your blog starts gaining traffic.
It becomes in your best interest to collect emails (lead generation) and implement effective email marketing strategies.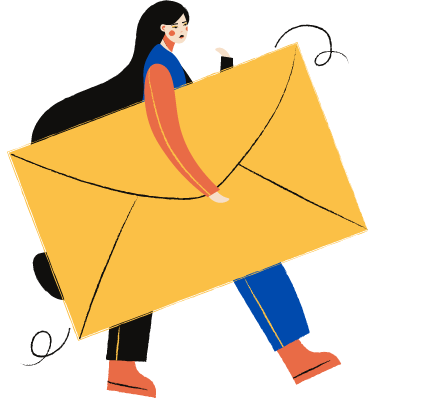 I can assure you that this entire process of collecting emails and mastering lead generation requires a certain skill set and a practical approach through trial and error.
You need to figure out the best ways to capture leads and understand the kind of pitches that would resonate with your audience.
Without a blog to test and experiment on, it becomes challenging to truly grasp and apply these concepts.

This is why I was compelled to learn email marketing, and to this day, it continues to enhance my skill set and broaden my portfolio.
Blogging serves as a catalyst for acquiring practical knowledge in various digital marketing disciplines, and email marketing is just one example of the valuable skills you can develop through this journey.
It's Ok To Take A Break
Feeling overwhelmed, discouraged, or dissatisfied with blogging is completely normal.
It's important to remember that the decisions we make during these challenging times determine the success of our blogs.
Instead of immediately giving up, consider taking a short break to relax and reflect.
Sometimes, stepping back allows you to gain perspective and identify why things aren't going according to plan.
It's perfectly okay to take some time off to recharge and reevaluate your approach.
I can relate to this experience from two years ago when I faced the potential temptation to abandon my blog.
However, thanks to my persistence and determination, I persevered.
Gradually, my hard work began to pay off, and I started seeing positive results.
Remember, success in blogging often requires patience, adaptability, and a willingness to learn from setbacks. Taking breaks when needed and maintaining a resilient mindset can make all the difference in the long run.
Over To You?
Now we have come to the end of this post.
What did you learn from today's post?
Do you consider switching your blog from a Hobby to a business blog or the other way around?
Either way, I will love to know in the comments.
Frequently Asked Questions
Can I do blogging as a hobby?
Yes, blogging can be considered a hobby giving you the opportunity to express and share your thoughts with the world through your written content.
Can a hobby blog make money?
Yes, a hobby blog has the potential to generate a decent amount of money through multiple streams of income like affiliate marketing, sponsorships deals, ad revenue and also selling digital products on your hobby blog as well
Is a blog a business or a hobby?
A Blog can be considered a business or a Hobby or either both depending on the ideal creation of the blog or the blogger's intention toward it. Ideally, in most cases, It usually starts as a hobby where individuals share their interests, but as they monetize it and dedicate more time and resources, it can transform into a full-fledged business.