In the quest for growing a successful YouTube channel today, there are essential tools that cannot be ignored or underestimated, and vidiQ stands out as one of them.
VidIQ is a popular YouTube analytics tool that offers comprehensive features for optimizing content.
To fully access and benefit from the functionalities and extensive features of vidiQ, it's typically recommended to use the tool on a personal computer (PC) due to the larger screen size and improved user experience it offers.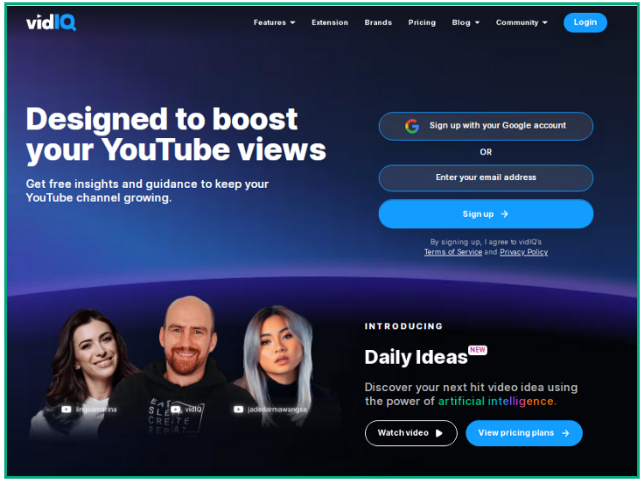 However, what if you don't have access to a PC? This question becomes a pressing concern for many aspiring YouTubers.  Can you use vidiQ on your mobile device?
In this article, we will explore how to use vidiQ on your mobile, even if the desktop presents a barrier.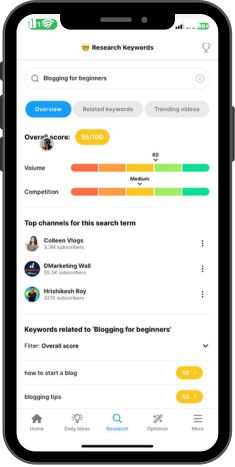 I'll demonstrate how you can access and leverage vidiQ's functionalities through their mobile app effectively.
So, let's dive right in!
Can I use vidIQ on a Mobile?
Yes, you can use vidIQ on an Android phone through their mobile app. With the app, you can access and utilize the comprehensive features of vidIQ to optimize your YouTube content and enhance your channel growth.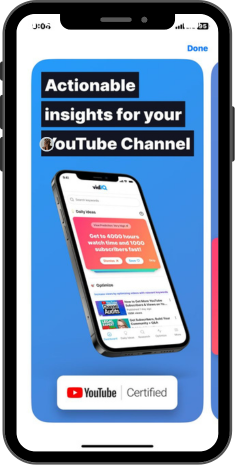 While vidIQ offers a web-based interface that is only accessible to desktop/laptop users, it does not currently provide a dedicated mobile application.
However, this does not exclude the fact that you certainly cannot use vidIQ on your phone.
The vidIQ web platform is compatible with mobile browsers, allowing users to access and utilize its features on their smartphones or tablets.
By visiting the vidIQ website through your mobile browser, you can log in to your account and access all the essential tools and analytics provided by the tool.
This enables you to perform optimization techniques like keyword research, analyze competitor channels, VidiQ AI which is usually the chatbot version of the tool, etc.
Though the experience may differ slightly from using vidIQ on a larger screen, the mobile version remains highly functional and allows creators to access vital insights and optimization tools on the go.
Whether you're away from your desktop or prefer the convenience of mobile browsing, vidIQ's compatibility with mobile devices ensures that you can harness its power whenever and wherever you need it.
How Do I Use VidIQ On Andriod?
If you are using an Andriod device, then you can still access the mobile version of this tool
The following steps are what you should do.
Visit your Google Play store on your mobile app and search for vidiQ for Youtube
Download and install the mobile application into your device
Launch the mobile application from your device
Signup from your device using your email address or Gmail
Confirm your email and connect your youtube account to enable vidiq to crawl your database.
Does VidIQ Work On iPhone?
Yes, VidIQ is compatible with iPhones IOS devices. While VidIQ does not have a dedicated mobile app for iOS, you can still access and use VidIQ's features on your iPhone by downloading the mobile app from your app store.
Simply Locate your Apple store on your iPhone and Download it.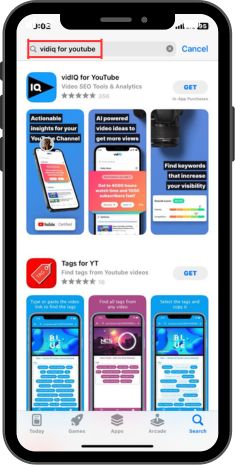 Sign Into vidiQ of if you already have an existing account with them, you can log in.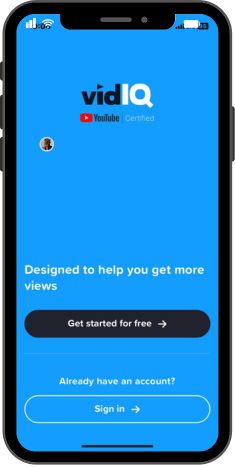 Although the user experience may differ slightly from using VidIQ on a desktop version like this.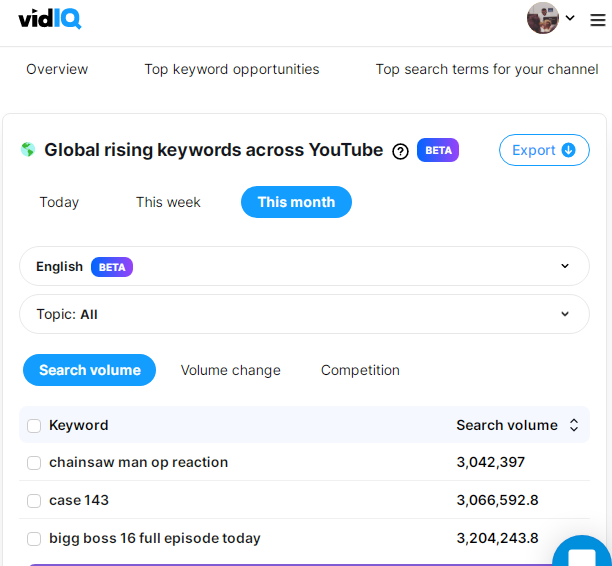 You can still leverage its powerful optimization features and gain valuable insights for your YouTube channel while using your iPhone.
But they simply work the same as in the desktop version.
VidiQ Mobile Features
The vidiQ Mobile Features comes with the following features that can be found on your IOS device or andriod.
The VidiQ Daily Ideas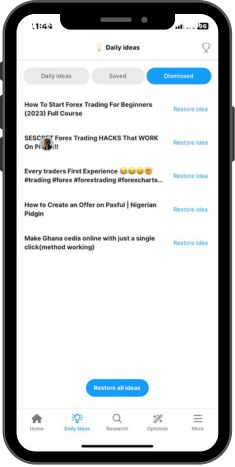 The vidiQ daily ideas is a section and a function on the app that shows you daily video ideas you can create videos on based on your niche that is trending.
This ideas can be a starting point to actually have a list of videos to makes when running out of ideas.
The VidiQ Keyword Research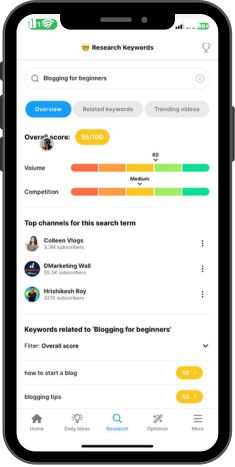 As i may sounds, you can perform extensive keyword research as well on the mobile app.
Just put in your seed keywords and the vidiq mobile app generates a lists of kedwords for you.
The same principles that works on the desktop version.
VidiQ For Tiktok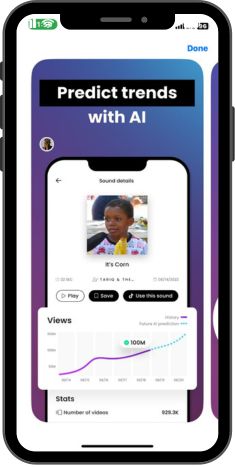 Is there vidIQ for TikTok? yes, absolutely.
VidiQ has a section and provide insights and shows you proven records of trending videos that you can hop on the trend and ride along with it.
This feature is available on the mobile version as well, so you can take advantage of it.
The only issue is, VidiQ only has a separate application for this feature, so you have to download them from your appstore or playstore
Competitor Analysis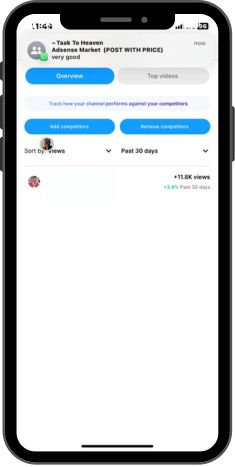 When you add your youtube channel or connect with VidiQ, it gives you the option to add at least 3 of your competitors so they can analyse their statistics and suggest better analytics on how you can improve your youtube channel growth.
Monetization Tracker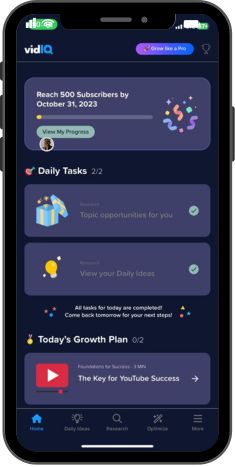 It requires 1000 subscribers and 4000 watch hours to get monetized on youtube, so vidiQ tracks this progress for you as your channel approaches this  Youtube monetization requirements.
This can be a great way to stay ahead and keep track of your channel progress.
Final Words
VidIQ is a valuable tool for YouTube creators, offering a wealth of analytics and optimization features to enhance channel performance.
While vidIQ also offer a dedicated mobile application for android and IOS users, allowing users to access all its functioPostnalities on their smartphones or tablets.
Whether you're researching keywords, doing competitors analysis and other optimization techniques, you can still see maximum results with the mobile version of these tool
So, embrace the convenience of mobile browsing and leverage vidIQ on mobile to supercharge your YouTube channel's growth.