VidiQ is a safe tools and has been used by thousands of Successful YouTubers.
And in no doubt, did I ever come across any creators who speaks on the negative side about this vidiQ.
I have personally used VidiQ for over 3 year now and I used it to  grow my client's Youtube channel subs by 150%.
From 5.5k subscribers.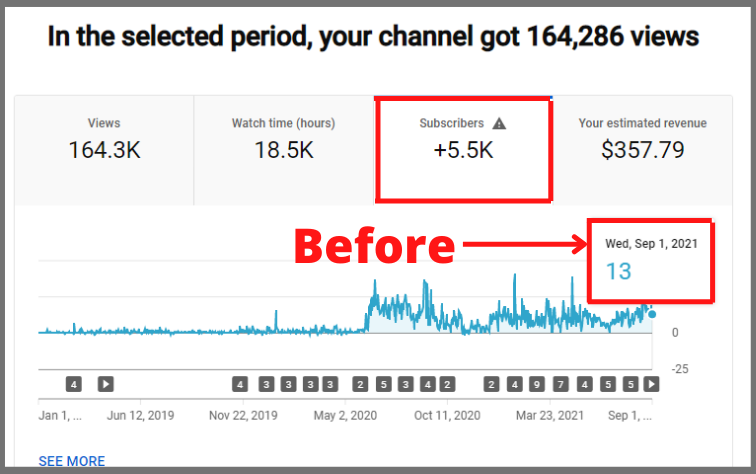 To 15.3k subscribers.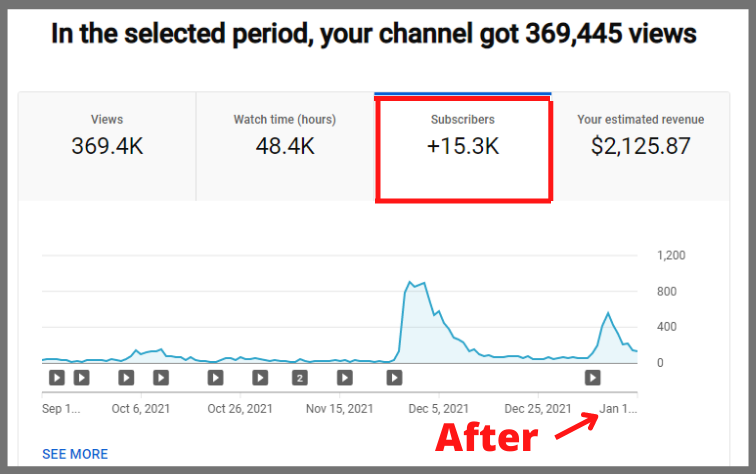 If there could be a glitch in the system, that doesn't make VidiQ not safe to use.
Its software and glitches are meant to occur but with VidiQ (I have never experienced one) and Yes, vidiQ is 100% legit and keeps your data safe.
So in today's posts i will show  why you need to trust vidiQ with your data.
And the steps I took to grow my client channel to this stage using VidiQ.
Keep reading.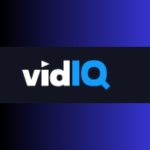 Keyword Research
Competitor analysis
Video Daily ideas
AI Video script writer
Trend alert
I've used VidiQ for my channel and my clients' channels for over 3 years without encountering any issues or concerns.
It's a reliable video SEO tool for YouTubers, offering excellent keyword research and analytics capabilities. Even FREE version is loaded with features.
What is VidIQ?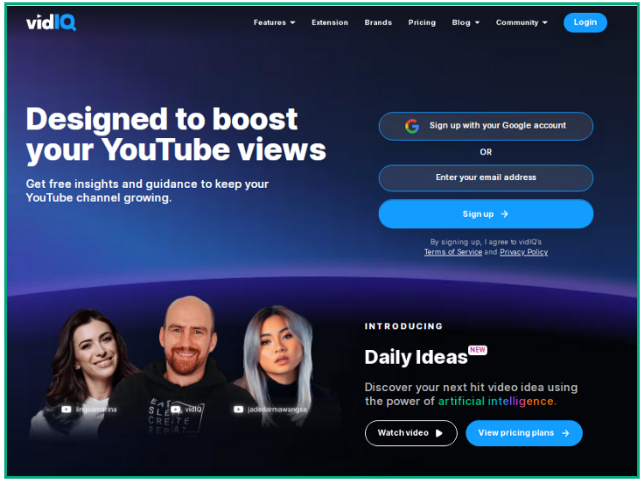 VidiQ is a SaaS tool designed to provide keywords metrics and video content analysis to YouTuber content creators, so they can find a topic on which they can create video content.
It was developed in 2011 and it provides YouTubers SEO-optimized titles, descriptions, & Tags.
Another Alternative is "TubeBuddy".
And it is a reliable tool and contains some remarkable features which am going to discuss down below.
Cool Features:
It helps you with detailed reports on how to improve your channel growth
Shows your competitors most viewed videos & how it works for them in terms of (engagements).
Trending videos you can hop on in your niche.
Keywords analysis.
On-page channel stats (chrome extensions).
The VidIQ tool is for implementing Youtube SEO activities and is also the best when it comes to conducting keyword research for your videos.
That said!
Is VidIQ Free?
Yes, VidIQ is free to use for a start but with limited features attached to it.
Due to these reasons, the paid version of these tools comes into play with unlimited resources based on their top-tier pricing plans.
I made an honest review about vidiQ where I actually talked about their pricing plans.
Is VidiQ Youtube Certified?
Yes, it's youtube certified but that doesn't guarantee the fact that the quality of its services is well-grounded in eyes of Google's search engine.
They are certified actually means they undergo a course by Google and pass the test.
Any other tools could achieve this too.
YouTube never recommends VidiQ as its own personal tool.
But vidiQ has by far been used by thousands of popular YouTubers and over the years their services have been top-notch.
As long as it never violates any policy guidelines by Google, your good.
How To Set Up VidiQ To Optimize Your Channel
Getting started with VidiQ can be quite technical.
Technical I say, but it is as easy as it may not sound.
Recall, VidiQ is a software tool that can help your videos with higher rankings which in turn leads to more views.
So, I have come up with a go-to guide that will walk you through the entire process and how these set up 10x my client's subscriber rates in less than 4 months (from 5.5k to 15.3k).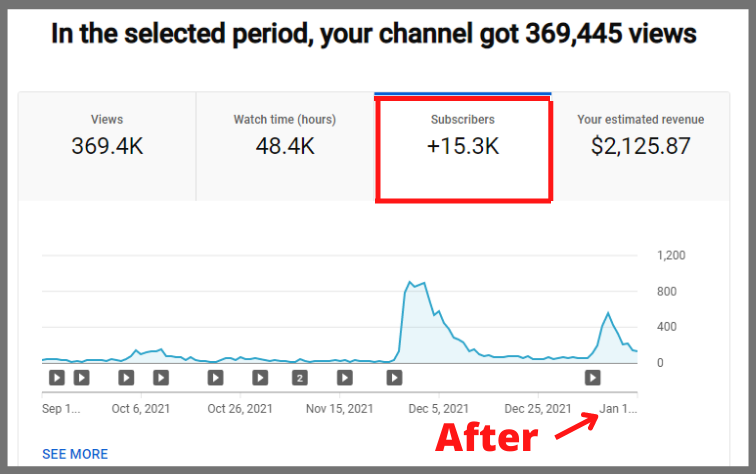 To begin with.
Sign Up On VidiQ & Connect your VidiQ account to your youtube channel: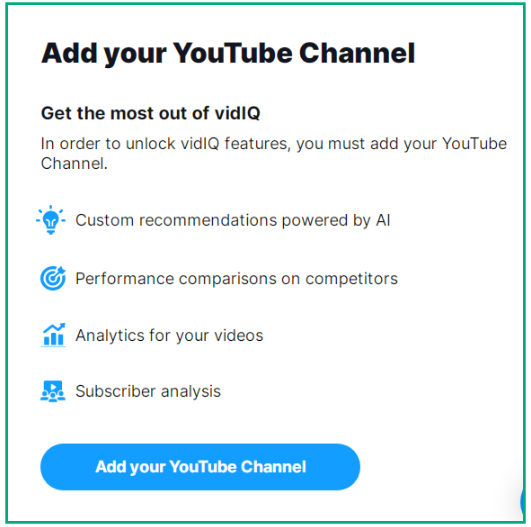 This is usually the first step to take when trying to set & optimize VidiQ for your channel.
It comes up immediately after a successful registration.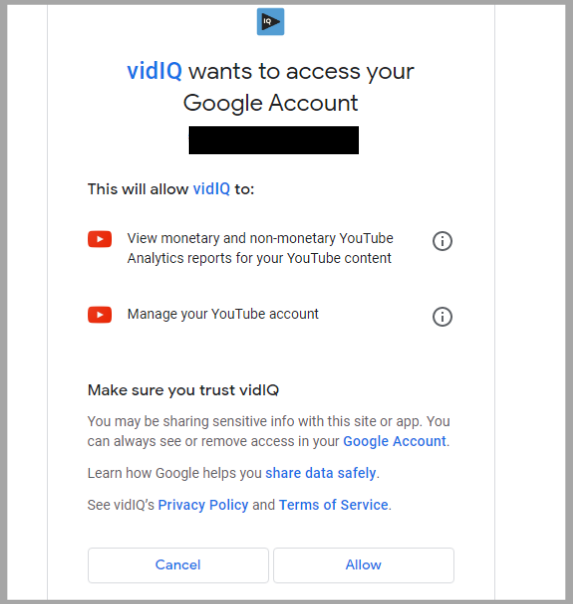 After successful registration, VidiQ gives you the feature too.
Track Your Competitor's videos: you only get the option to choose (3) competitors in your niche.
So vidiQ uses these options to analyze their best most viewed videos and recommend them to you.
So you can create a better version of them & which mostly tells you trends videos & what they are up to.
One Channel for use: this absolutely allows you to connect just one of your youtube accounts
on the Basic plan.
Audience Stats & Demographics: It gives you insights and tells you more info about your audience's location, ages, and more.
Trend alerts:  it analyses your competitor's channels and spots trending videos for you, So you can hop on ASAP.
Channel Analytics: Unlike your youtube studio dashboards, VidiQ shows important stats that you can find ordinarily on your youtube studio.
VidiQ chrome extension: Provides a chrome extensions scoreboard that shows the level of your Video SEO settings (more on that discussed below).
VidiQ Keywords research
This is the first blueprint when it comes to scaling your video content.
When I started working on my client's channel, the first approach was keyword research.
This client of mine was in a very competitive niche (forex & finance) & there were lots of established YouTube creators dominating that space.
So I came up with the best keywords we can easily rank for on youtube search.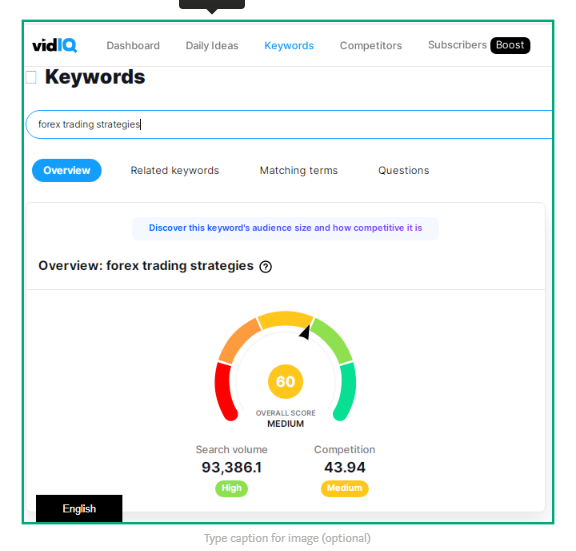 Because the channel was not new and has a generated only (5.2k) in 2 years with over 30 videos,
Before I came on board.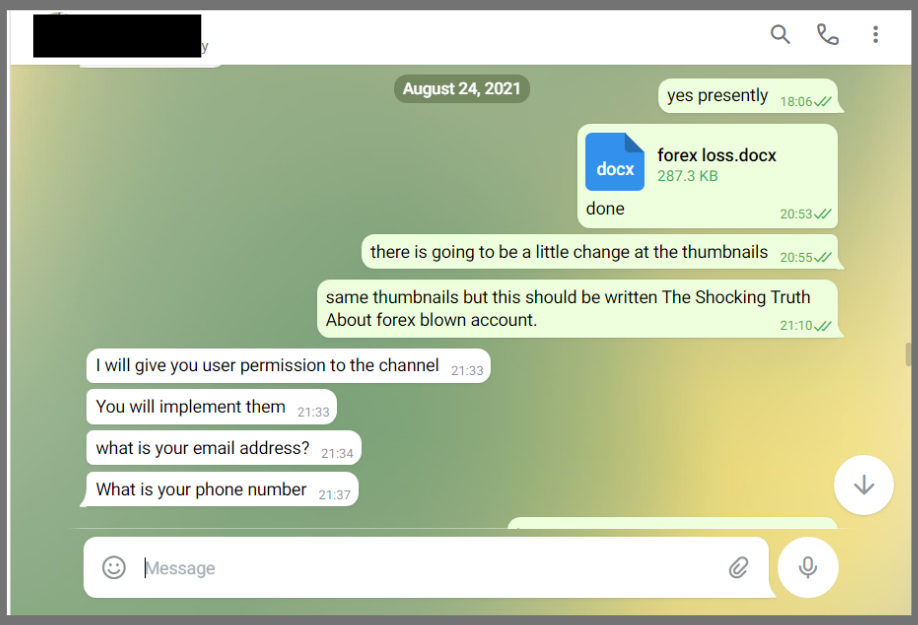 I targeted low-medium tail keywords in our niche.
And that leads to the growth of his channels a few months after, I did what am about to share with you.
From August 24, 2021, when I came on board.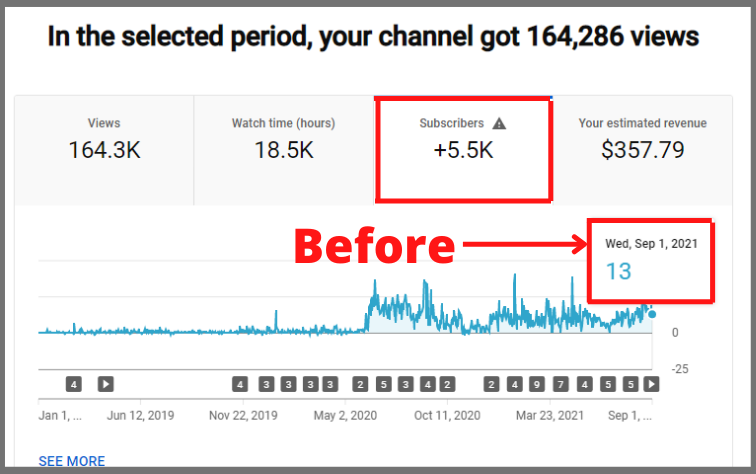 To Jan 2022.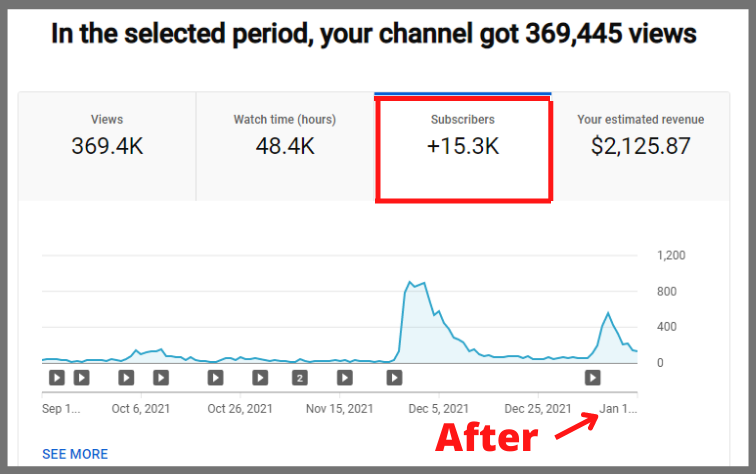 Here is how it works.
Pop-up keywords your potential audiences will type whenever they head over to the youtube search bar on VidiQ &
It suggests to you many lists of keyword variations you can use.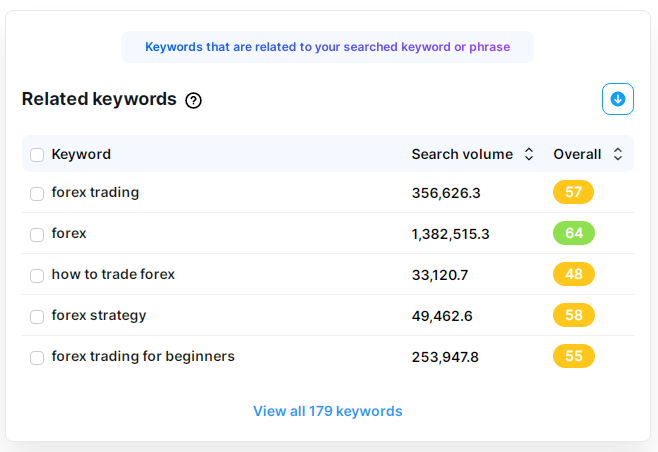 These keyword variations are Goldmine as it makes youtube understand what the video is all about when used properly.
They also provide a list of common topics handy for you.
Below is brief info on these metrics, which you can easily spot when finding keywords on vidiQ.
Overview: a review and shows you the difficulty of the keywords
Related Keywords: how related are the keywords you just typed in?
Matching Terms: Most times your competitors may not actually type in the exact keywords you think of.
Keywords phrases let you discover some hidden keywords your audiences may be searching for.
But most of all, you may not actually think of it.
Questions: Query keywords your potential viewers are likely to find you on whenever they are on the youtube search bar.
Competition: For a start, the lesser competition, the better
Search Volume: Amounts of searches that keywords get on a monthly basics
Overall score: This takes details of the total number of searches and the competition of that keywords
Youtube Channel Tags
Channel tags are descriptive keywords added to a youtube video that describes what the video is all about.
So I noticed there are no tags displayed on 80% of my client's uploaded youtube videos.
This is why his youtube channel wasn't growing so fast.
So I let him know and added tags on all the videos when necessary.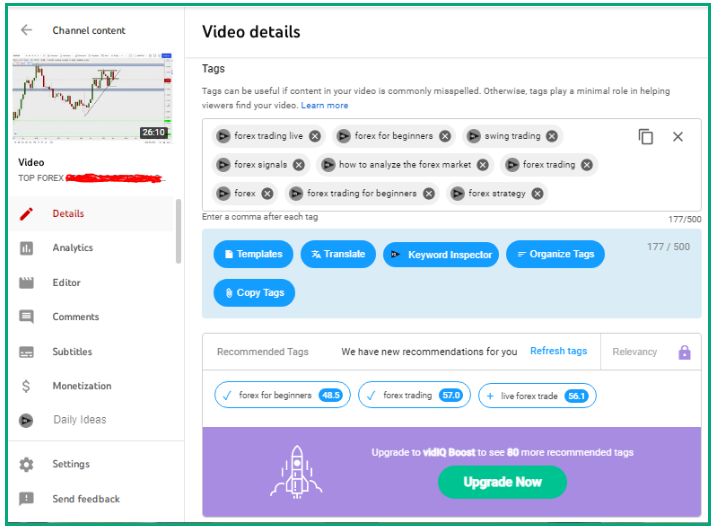 These tips help him boost his previous videos' organic rankings by 38%.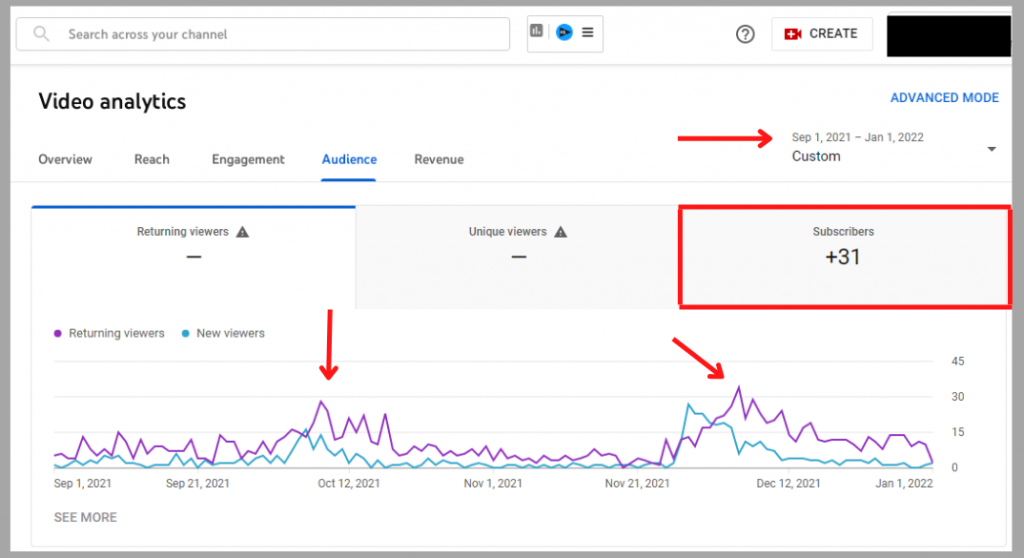 These tags are just keywords suggestions I got from the VidiQ keywords research tool.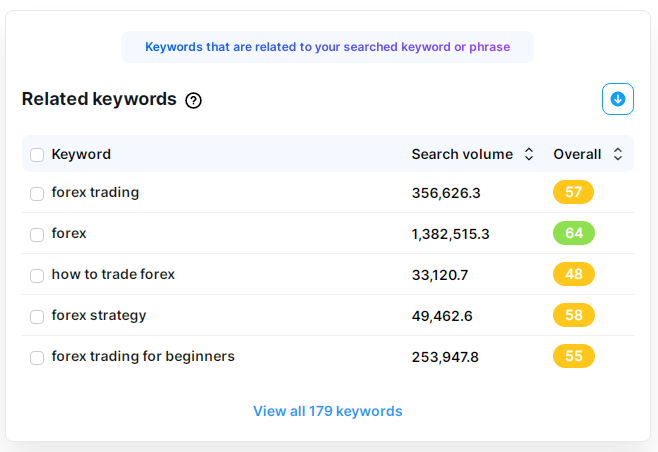 So you must not mess with these aspects.
Activate VidiQ Chrome Extension
The vidiQ chrome extension is a great resource you shouldn't ignore.
This extension provides you with lots more information that can shoot your channel traffic off to the roof.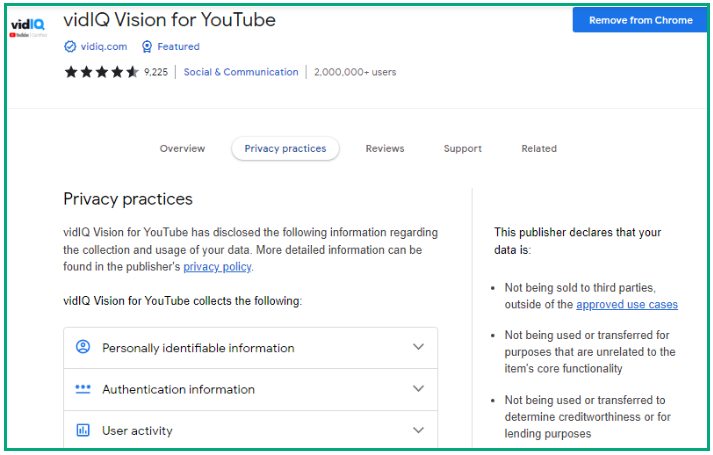 For example.
This Chrome extension feature on VidiQ gives me additional info and tags my competitors are using.
So I can use these tags for my videos.
For example when I searched for these keywords on youtube.
It shows me a list of videos ranking for that term, "day in the life of a forex trader"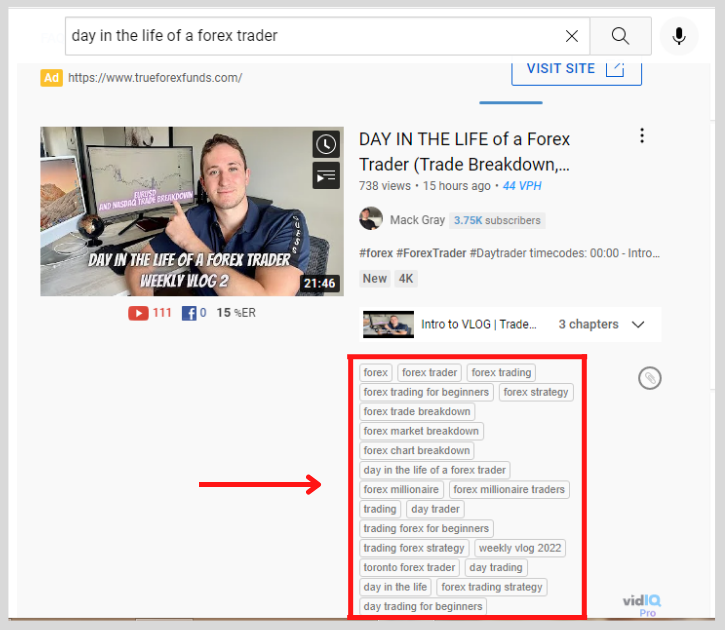 With the help of VidiQ, I can now spot out tags they are using.
And add them to mine.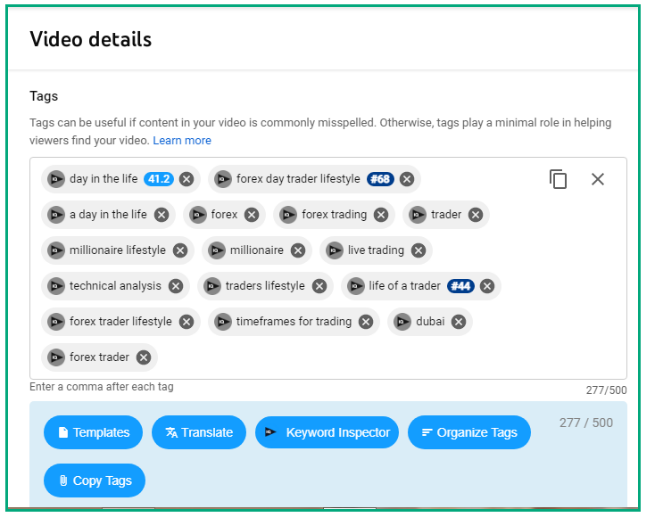 Since it, they ranked for that term using those tags.
Then chances are, we can get a sweet spot on the youtube results page.
And also make them fit in my video descriptions.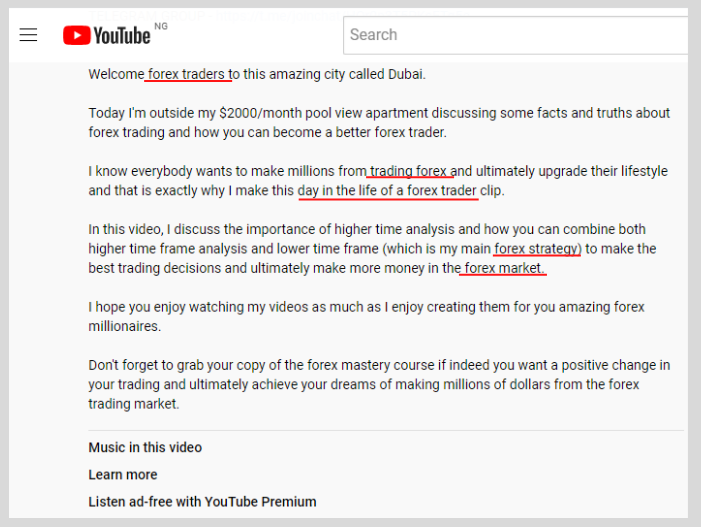 Also, add them to your headlines. To avoid accessing the tool always.
VidiQ provides you with on-page stats and overviews of the keywords you search on the youtube search bar once activated.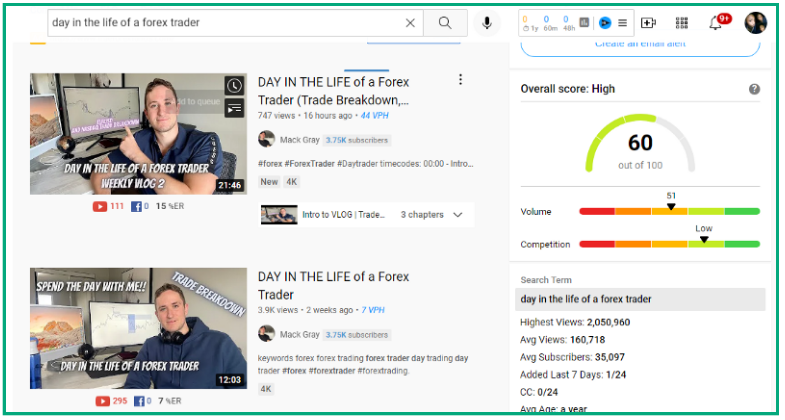 If the tags are also Video keywords and have good searches on Google,
Then it can rank on Google too, Nice.
Video keywords are youtube videos that can potentially rank on Google for their term.
Just like this.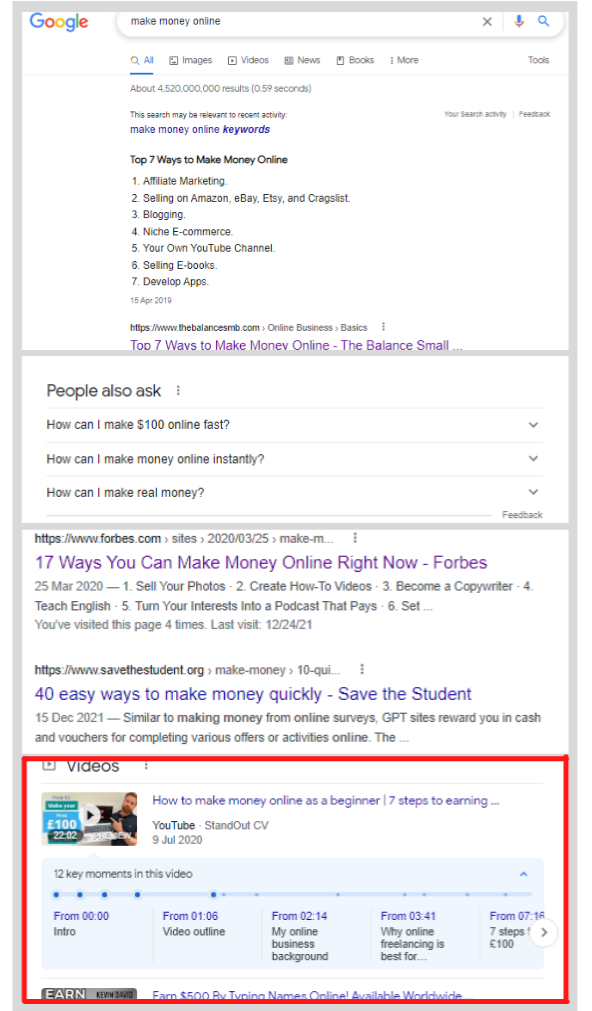 For example, my client's channel ranks for good video keywords on Google search results with over a thousand searches per month.
And that brought in 50% of his video views (browse feature) and quite a decent amount from a Youtube search.
Well said.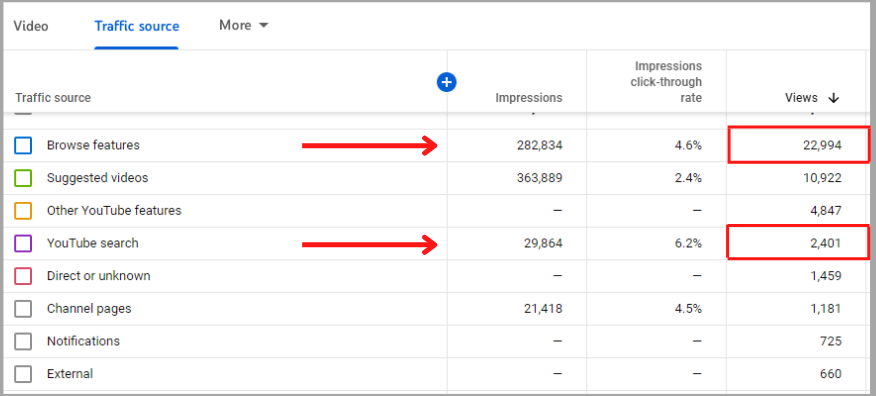 Optimize Your Channel
Optimizing your channel gives you an edge over your competitors.
In fact, this strategy increases my clients' youtube organic views in no time.
For example when I search for "reduce day trading addicts"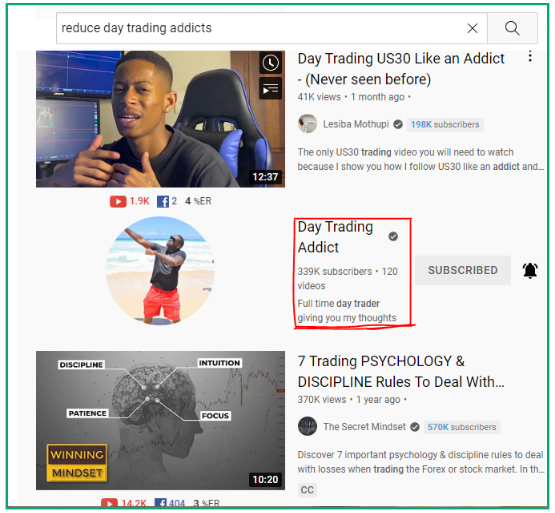 And "Yoga"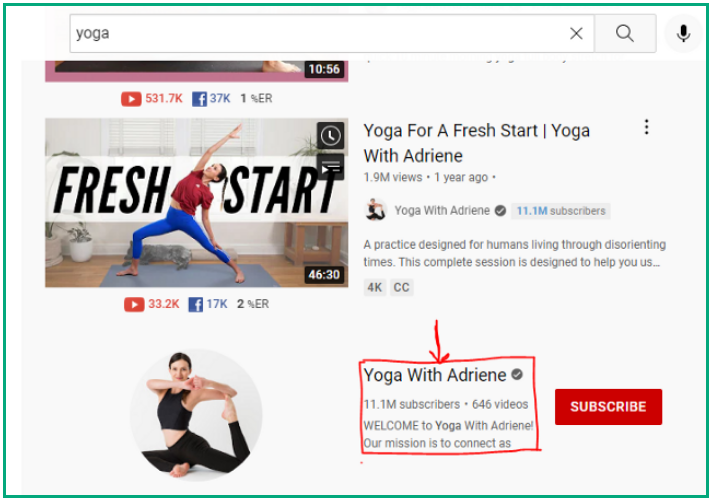 These channels rank because their channel about bio and info contains keywords we searched for.
So I quickly made a change and optimize my client's about us sections and channel layouts (group videos into playlists).
Other Cool Features You could Ever find when using this tool are.
  Best time to post feature:
These tools provide you with information you cannot get from just checking your youtube channel analytics.
Which is "The best time to post".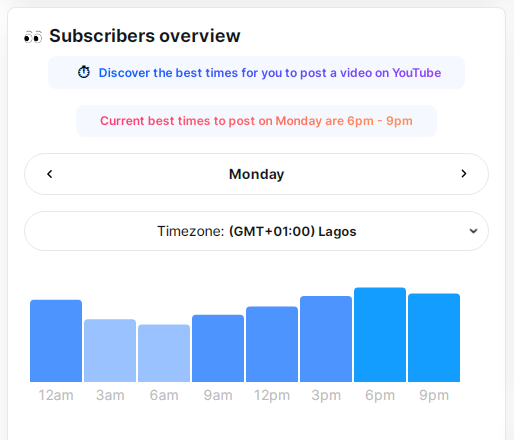 Just as it may sound, it shows you suggestions on the best time to get your video published.
This happened based on certain metrics the tool used to get this data.
One part of it is that it analyses the best time most of your competitor's videos perform well in terms of engagements.
It takes a record of all these statistics and other factors.
So when they give you suggestions based on it,
You ought to take a deeper look into this feature.
Because the best time to post is when your potential subscribers are active.
 Top search terms for your channel:
It shows the lists of those search terms that are actually driving traffic to your channel.
This information it provides is very vital,
As it helps you identify what terms your audiences are trying to locate your channel.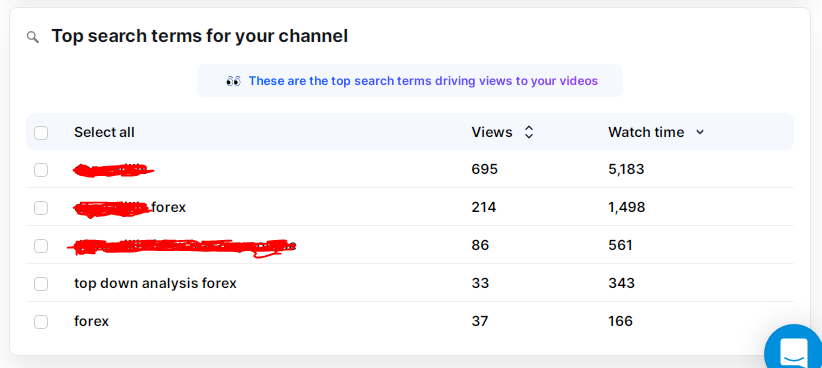 Daily Ideas:
Are you short of ideas on what to make videos on?
VidiQ has these ease-of-use features where you can easily spot video ideas from your niche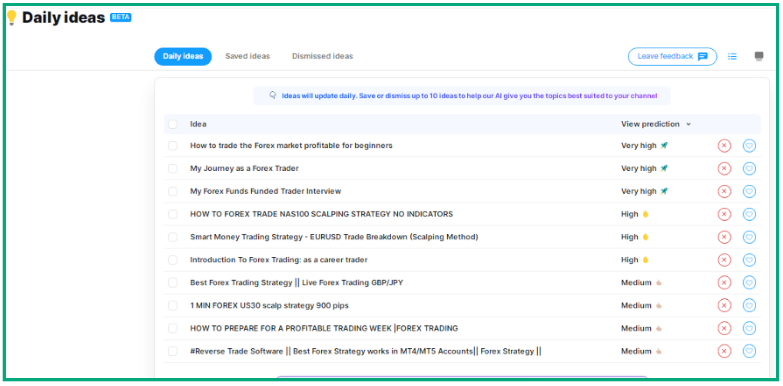 This can be accessed either through the paid plan or the free plan.
The differences include,
The number of ideas is only limited compared to the paid ones.
The higher the plans the more results you get.
For a head start, you can begin with the free plan or whichever.
Rising Keywords:
VidiQ recently added a new feature called Rising Keywords.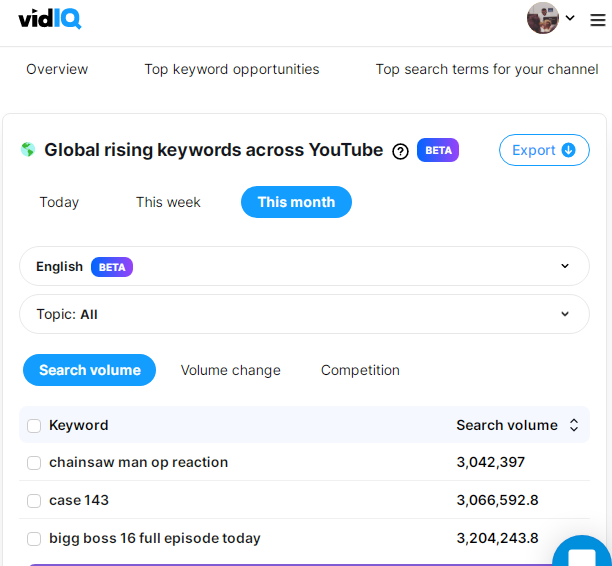 How does it work?
Shows you a list of untapped keywords that are about to take off.
That way you can get in early before the competition goes high.
Sign Up On VidiQ And Grows Your Youtube Subscribers.
VidIQ Academy:
The VidiQ academy is also one part of those mind-blowing resources you will be getting from this tool.
The academy consists of everything you need to know when it comes to scaling your youtube channel.
Its packages are in form of courses,
and it walks you through the main integrities of the platforms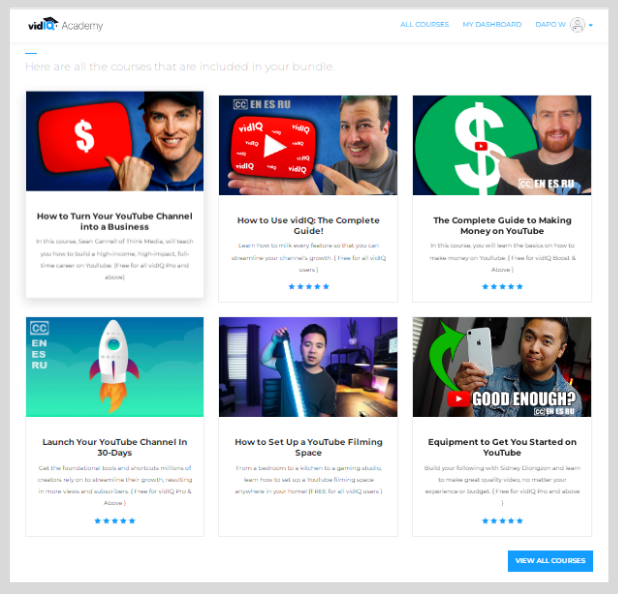 Find it difficult to use the tool? feel free there is a course for you.
Want to know how to make money on youtube? VidiQ has a free course for you and more.
Once each course has been completed, a certificate will be offered for each successful completion of the program.
The free/basic plan also gives you access to this.
You can get access to this academy via your profile dashboard.
How Realistic Is VidiQ Customer Support?
Having issues dealing with the VidiQ software interface,
That where VidiQ customer supports comes into play.
The vidiQ customer supports are in two categories
live chats option
Supportive Articles
The vidiQ support pages come in handy full of articles and questions with problems you could likely experience when using their tool.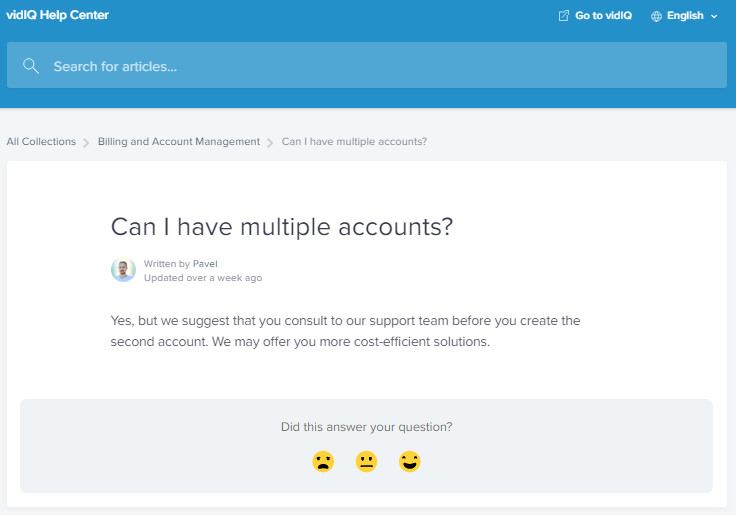 So whenever you find yourself on the support page, you should be ready to locate a hand full of supportive articles.
If that didn't solve your problem,
You can email [email protected]
Either way, you can use the live chat option and that could be of great help
But there is one problem with it.
It is just a chatbot.
Typically replies instantly after dropping a message which says, it was designed that way.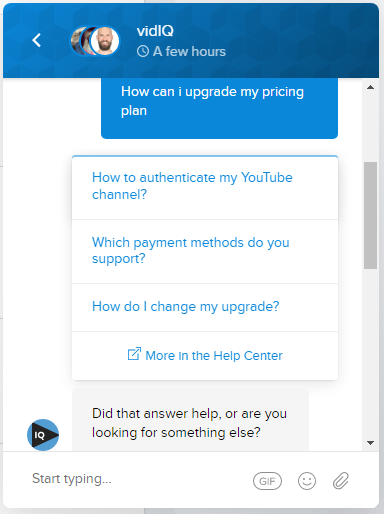 And when it replies, it shows you a list of supportive articles.
Most times you may not actually get the solution to what you needed and when your request chatting a person.
It takes several minutes for someone to get on board.
In most cases, not at all.
Better still email [email protected] for a faster response.
But that doesn't guarantee that they're not reliable.
VidiQ Prons and Cons
Pros:
Can get you lists of low-difficulty lists of keywords you can hop on.
Most reliable tools for keyword research on Youtube
Easy to set up for starters
Shows you the best time your audiences are active so you can post videos, during that timeframe.
Generates content ideas in bulk.
Provides you will a score to determine how well your videos are optimized for SEO.
The Chrome extensions allow you to see inline keywords your competitors are ranking for.
Cons:
It is not 100% accurate.
Designs are contacts, they may change their interfaces sooner based on the developer's perspective
Allows only one channel per account, but if multiple (contact their support and you get charged for that process).
Is VidiQ Worth It?
Yes, vidiQ is a 100% legit tool that helps me grow my client's Youtube subscribers faster.
So I recommend it to anyone who is struggling to grow their youtube channel.
Sign Up On VidiQ And Grows Your Youtube Subscribers.
Disclaimer
When considering implementing the strategy I just shared here,
It is best you understand some certain measures to it and ought to know that
VidiQ is just a tool that provides you with details and info on where to create contents your audiences are demanding for.
Applying it the right way is what increases the odds of finding success.
You can check out the Backlinko Youtube SEO guide, you will find a hand full of info there by clicking the image.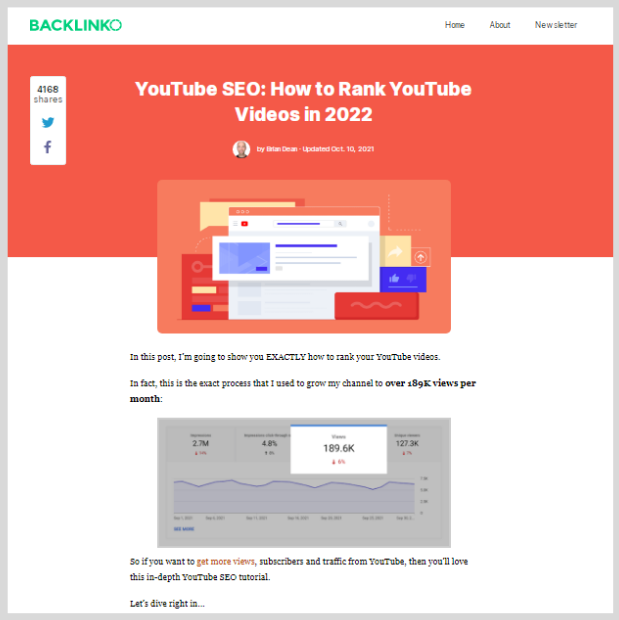 Still in my case
Based on my client's objectives,
He wants to grow that channel to over 100k subscribers by the end of 12 months.
It took him 2 years to grow from (0) to (5.5k) subs with over  30+ videos.
Quite slow isn't it?
So, when I came on board,
I made some certain changes as mentioned earlier and less than 10 additional videos were uploaded.
And we grew it to 15k in 4 months provided I also did some external free traffic promotion.
Today being May 2022, we are now 31K  in subs (full case study).
I am glad to say before the end of 12 months we are definitely achieving the client's goal.
Even though we couldn't get to 100k, the drastic change was overwhelming.
NICE.
Better still, "it is easier to grow a channel from a least following to a massive following.

But it is hard to build it all From scratch".
Does this Quote hold true?
Spoil Alert: Yes!
Provided that "all fingers are not created equal".
To get the bests results of out it, consider the following factors in addition to it.
Videos must provide value
Videos must be Engaging and have good audience retention.
Quality over quantity.
That said!
Disclaimer: This post contains affiliate links that service at no additional cost to you, read Our affiliate disclosure
Over To You
Now we have come to the final part of this full review and how,
vidiQ can help you boost your channel success within a short period of time.
Which of these strategies in today's posts have you come across, tried, or tested?
Either way,
I hope these posts will help you make a well-informed decision if the vidiQ tool is the best option for you.
Feel free and drop your comments below