VidiQ free trial comes with a lot of benefits that don't require using the paid version all the time.
I have been using VidiQ for 2 years, and not until a year ago I switched to the paid plan.
To be honest, the paid plans do an amazing job, so you don't need to bother about spending a dime.
In fact, 80% of the most important features are usually on VidiQ free plan.
The only downside to the free plan is: The data you get from the tool are limited. but trust me, that doesn't guarantee the fact that you can never enjoy the best version of it.
So in today's post, I will be sharing the most important features from the vidiQ free plan that can maximize your youtube growth.
Keep reading.
Is VidIQ Free?
VidiQ is an SEO tool for YouTubers who want to grow their youtube channel but with limited data and that's where the paid version comes in with unlimited functionality and results based on each tier pricing plan and it is safe to use as well.
VidiQ Free Trial: Sign Up and Maximize Your Youtube Growth (it only takes 2 secs).
VidIQ Free Features
The differences between the free and paid users on vidiQ are the limited amount of Data.
Needless to say, the free version still has 80% of all functionality that paid users have but with limited data and resources.
Trust me. with the limited data you generate from the free version, you still have all it takes to maximize your YouTube channel.
But to avoid limitations in the future, you might consider switching to the paid plan if only you find the free version interesting.
VidIQ Free Trial: Try the free version and see why it's a must.
Keyword Research:
Keyword research is when you want to find amazing keywords for your youtube video and the free version offers it.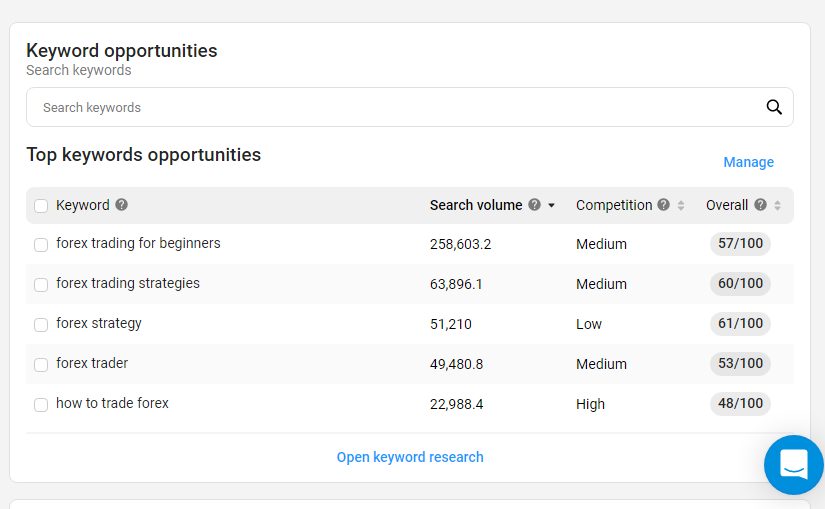 Insert your seed keywords and it will show you a list of keywords.
Limitations: it only shows you 3 keyword reports on the free version.
VidiQ AI coach:
One tool I love about vidiQ Is the ai tool and it comes with a free version and no limitations to use.
The vidiq AI coach is the chat GBT version for YouTubers and it helps you, write youtube scripts, suggest headlines, also generate video keyword ideas for you.
Running out of video ideas, vidiQ AI coach does the work for you within a few clicks of prompts.

Limitations: There are no limitations when using the AI tool with the free version.
VidiQ Daily Ideas:
When you sign up on VidiQ, it gives you the option to put in one of your competitor's channels to know your niche and track these data and suggest them to you.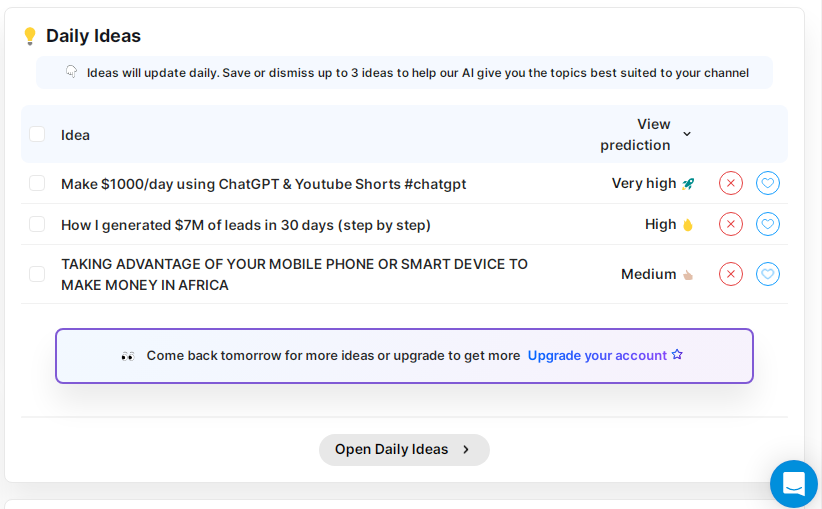 Whenever they suggest daily ideas to you, then you shouldn't sleep on them because these are data gotten from other successful channels.
The higher the prediction, the better chance to get more views when you make a video on these ideas.
Limitations: comes with only 3 video ideas per day.
Rising keywords:
Rising keywords are trending keywords.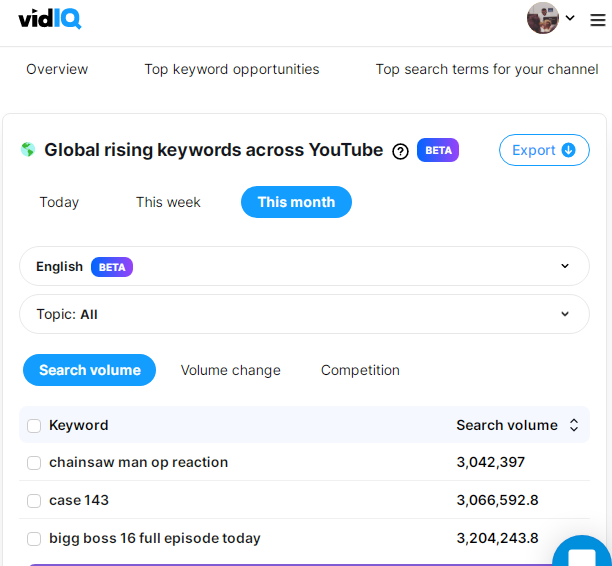 There is usually a saying that goes the quote "Ride with the trend".
If vidiQ suggests rising keywords for you, then it means those keywords are trending.
The earlier you jump into the trend, the better.
Limitations: comes with only 3 trending keywords per day on the free version.
Free Competitor Tracking:
Remember earlier on when I said vidiQ allows you to put in your competitor's channels so they can track their analytics and see what is working for them to suggest them to you?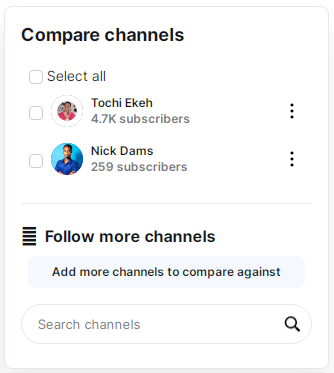 With the free plan, you can get these reports on a silver platter, and with unlimited metrics that show what your competitors are doing better than you.
The Good part is: You cannot get this data from Youtube studio if only you have access to your competitor's channels which is totally impossible.
Limitations: You are only allowed to put in three of your competitor's channels while the paid version allows you to add 6 or more depending on the pricing plan.
VidiQ Academy:
If you are having difficulties understanding the vidiQ tools (which 80% of the time may not happen because they have an easy-to-use interface), the academy does a vital role in teaching you all you need to know for free.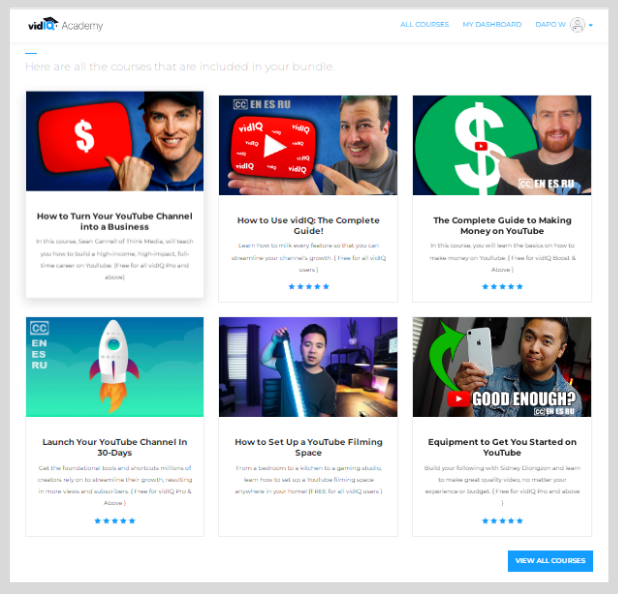 Not just that, but they also have a free course on everything you need to know about being a successful YouTuber.
That way, you see some common mistakes most amateur YouTubers make.
You also have the opportunity to learn from other successful YouTubers like Sean from the think media podcasts.
Limitations: The free version only limits you to two basic courses as shown below.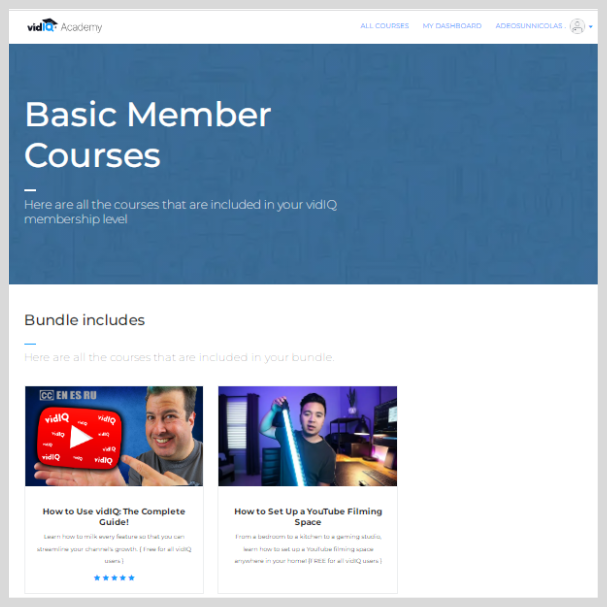 Unlike the paid version that exposes you to numerous advanced courses.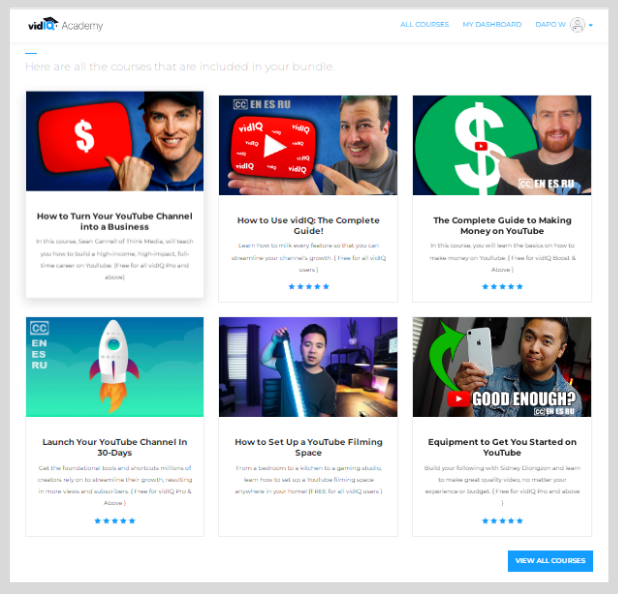 VidiQ Chrome Extension:
Even if you are on the free plan, you are not limited to the vidiq chrome extension tool.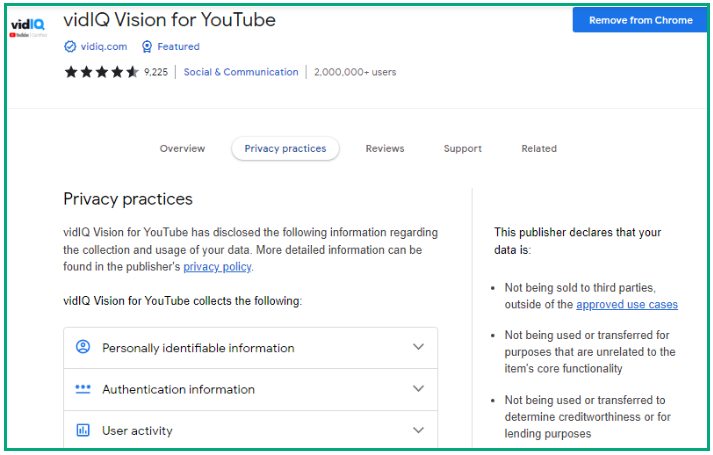 Once you create an account on vidiq, simply install the vidiq Chrome extension on your Chrome browser and start enjoying the following benefits.
Shows you a list of all your competitors' tag
Keywords difficulty
views and engagements score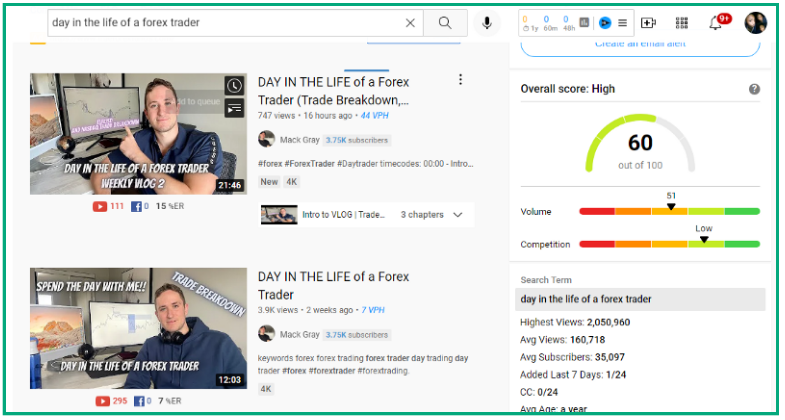 That way you can get all this information from YouTube for free without having to access the tool all the time.
How Long Is the VidlQ Free Trial?
The vidiq free trials have no time limitations at the moment of writing these articles.
As I mentioned earlier, I have been using the free version for over 2 years, and over this period, I have never experienced any information or time-lapse using the free version.
You only sign up for the paid version when you feel the need to.
VidiQ Free Trial: Sign Up and Maximize Your Youtube Growth (it only takes 2 secs).
Do You Need a Credit Card to Activate a VidiQ Free Trial?
You do not need a credit card to access the vidiq free trial account, all you just need is to sign up and start enjoying the free benefits that come with it.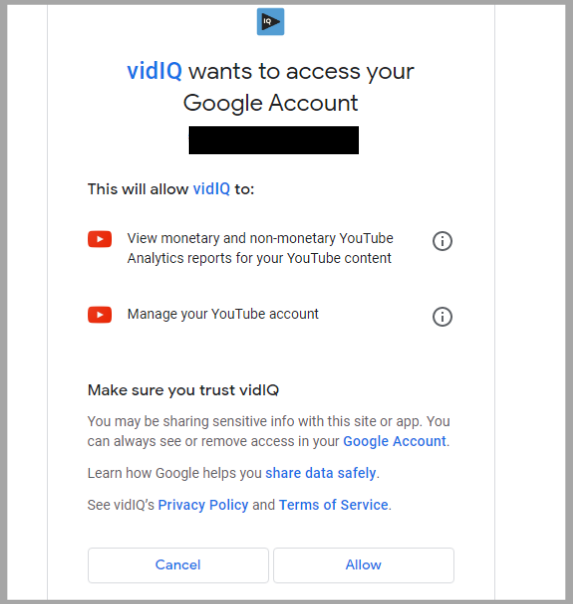 VidiQ Free Trial: Sign Up and Maximize Your Youtube Growth (it only takes 2 secs).
How Much Is VidlQ After the Free Trial?
If you consider going for VidiQ paid plan, then you need to consider the following tier plan that suits your budget.
The Basic plan (VidiQ Free plan)
Pro plan (cost $7.5/month)
Boost Plan (cost $39/month)
Max (cost $79/month)

Each of these pricing plans comes with its own limitations.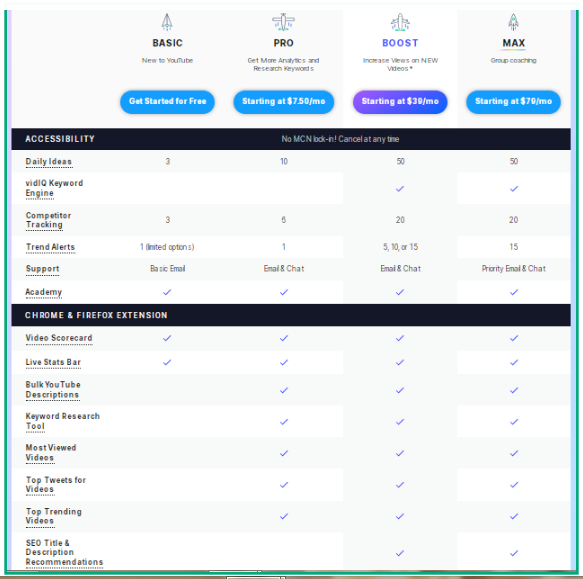 For example,
The Basic plan provides only 3 keyword research results, and 3 daily ideas and is able to track only 3 competitors.
The pro plan which cost $7.5/month, provides only 10 keywords research results, and 10 daily ideas and is able to track only 6 of your competitors
Boost Plan (cost $39/month), provides only 50 keywords research results, and 50 daily ideas and is able to track only 10 of your competitors, etc
The higher the plan, the more data you get. You can check out the VidiQ pricing page for more clarity.
Is There A Free Alternative To VidIQ?
The alternative to vidiq is tubebuddy. and am not a big fan of tubebuddy because I have never used the tool once.
Disclaimer: This post contains affiliate links that service at no additional cost to you, read Our affiliate disclosure.