In today's post, Im going to be doing a deep dive into an Honest review of VidiQ.
And also answer the following.
What is the benefit of VidIQ?
Is VidIQ good for YouTube?
What can I do with VidIQ?
And how it also 10x Our Youtube Subs By 150% from 5k Subscribers.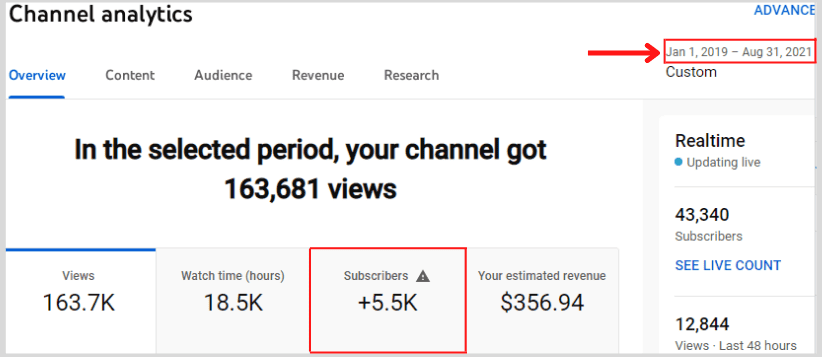 To 35,800 subscribers in less than 5 months.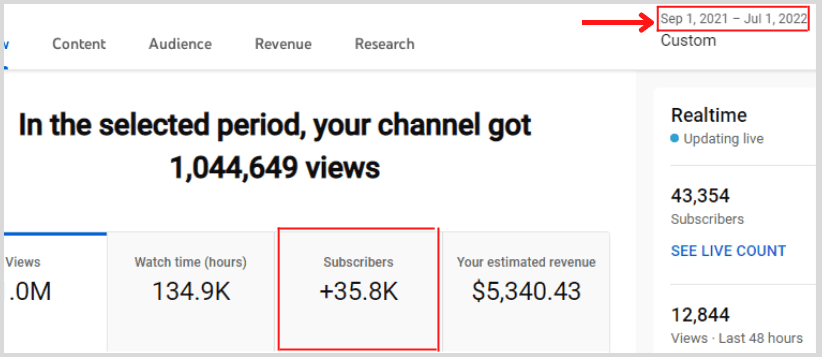 Keep reading…..
Starting a Youtube channel can be a great way to grow your brand, and online business, gain visibility and make money online.
But if you want to grow a successful Youtube channel in record time,  it is impossible to ignore the vidiQ tool.
Every successful Youtuber uses VidiQ and so do I. and am going to show you how VidiQ can grow your channel in record time.
But before then, let's talk about what is vidiQ and does it works.
What is VidIQ used for?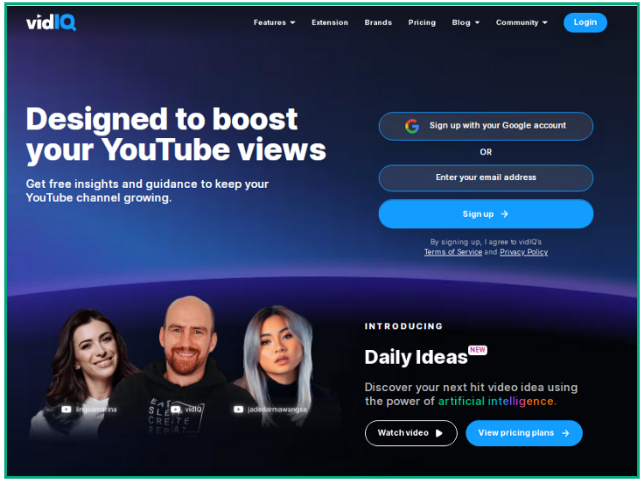 VidiQ is used for Youtube creators to conduct video keyword research, optimize their videos for SEO, and show trending videos in their niche they can make videos on before it gets competitive.
If you want to know how to use vidiQ to grow your Youtube channel, you shouldn't ignore these key features.
VidiQ Key Features You Won't Want To Ignore:
AI Coach Feature
VidiQ Keywords research
Best time to post
Daily Ideas
VidiQ chrome extension
Trend alerts
Track Your Competitor's videos
I'll be covering them in a bit.
AI Coach Feature
There is one thing I love about this feature: It is an AI similar to that of Chat Gbt but designed for Youtubers alone.
The Good Part:  It can generate video headlines for you, Script your videos, and screenplay, and generate ideas for new videos.
Check it out…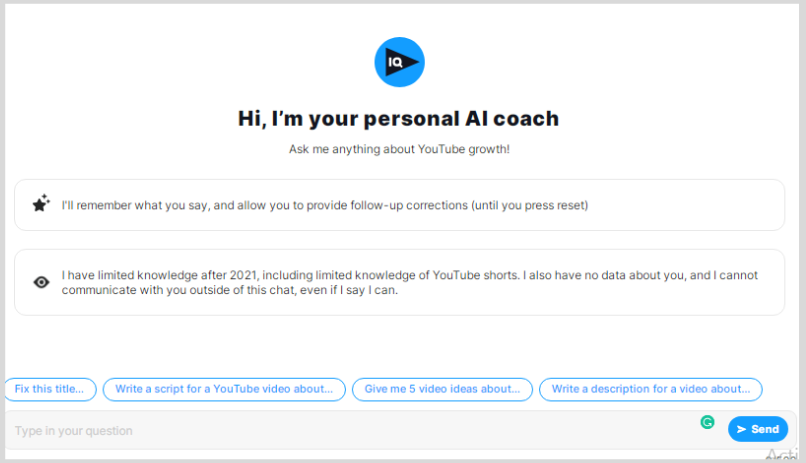 So I tested it out to know its legitimacy… I asked it to create a Youtube script on "Marketing"
And the results? Amazing……..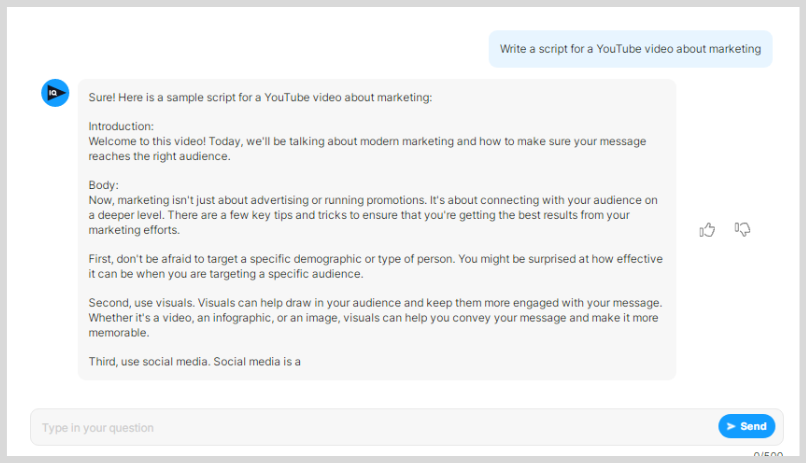 So if you are running out of video ideas, use the VidiQ AI chatbot to generate video ideas on "Marketing".
And you have a nice list on a silver platter…

Sign Up On VidiQ And Start Growing Your Youtube Subscribers.
VidiQ Keywords research
If you want to be successful on Youtube, you need to do Youtube SEO.
Video Keyword research is the first step to take if you want to create videos people will find and watch.
And that is where vidiQ comes in, it shows you the search volume and difficulty of a keyword.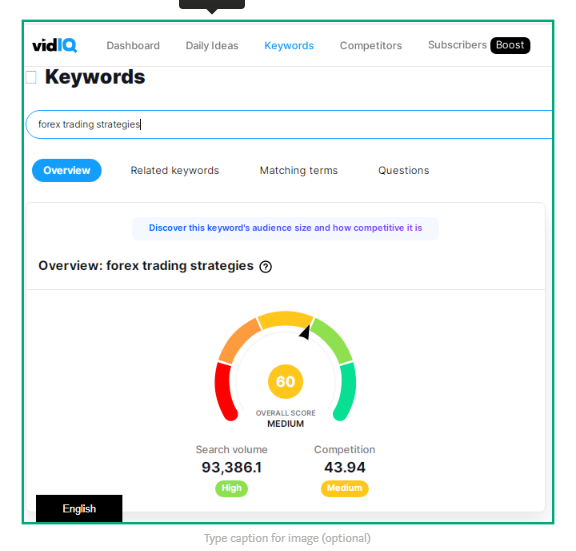 The lower the keyword difficulty, the better chance you can easily rank on Youtube for a keyword.
Finding low-difficulty keywords was what made me easily rank my Youtube video, it only took 24 hours.
Best Feature: Rising Keywords.
These are keywords that are about to explode. the earlier you start making videos about them the better views you get.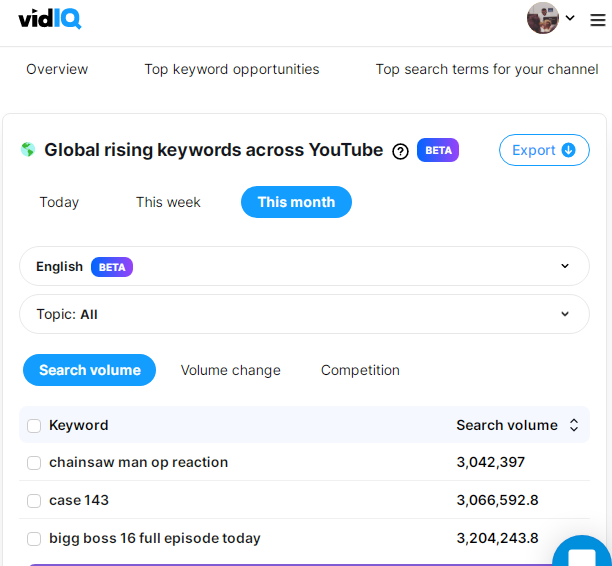 Best time to post
As it may sound, it tracks your analytics and uses those metrics to understand the time your audience usually watches your videos and others of your competitors.
So it tracks these data and shows you the Best time to post your video.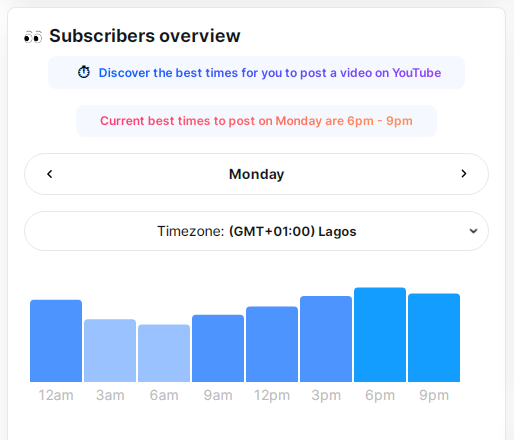 The best time to post your video is the time your audience is usually online on Youtube.
Daily Ideas
VidiQ does one thing that no other SEO tool does on the planet? it shows you video daily ideas based on your competition's most viewed videos.

VidiQ chrome extension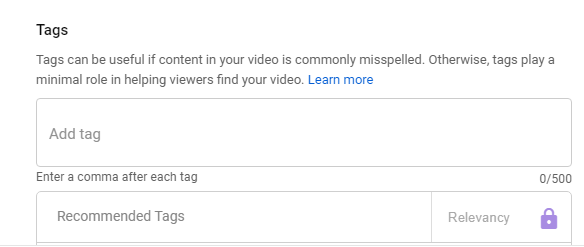 The Tags feature on Youtube tells the algorithm what your video is all about so they can rank you for a given keyword.
The chrome extension helps you steal your competitor's tags on Youtube SERP.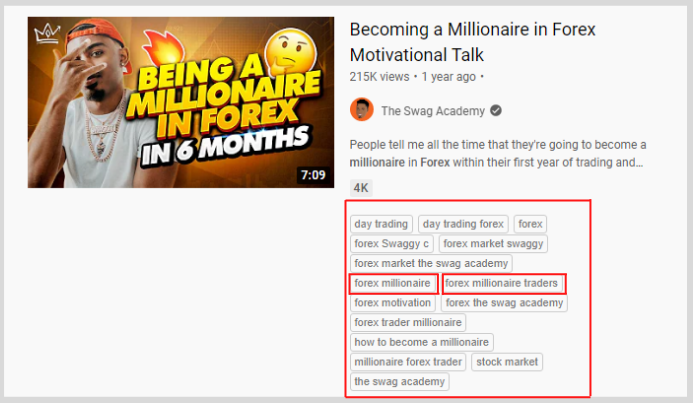 so you can replicate them with yours.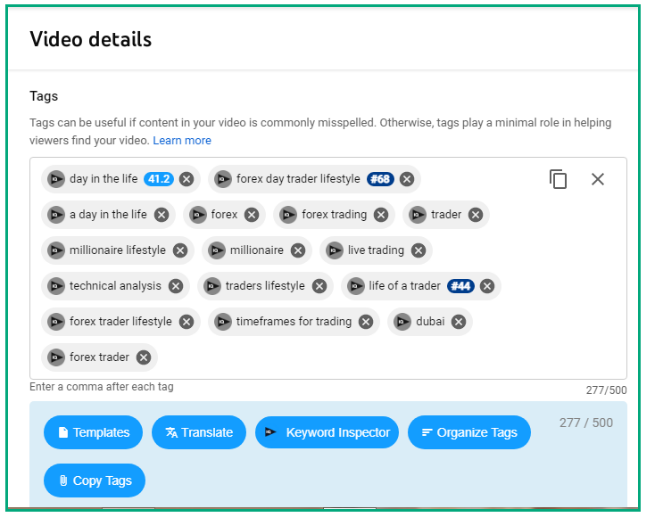 And also shows a score that indicates the overall performance of a Youtube video, the higher the better.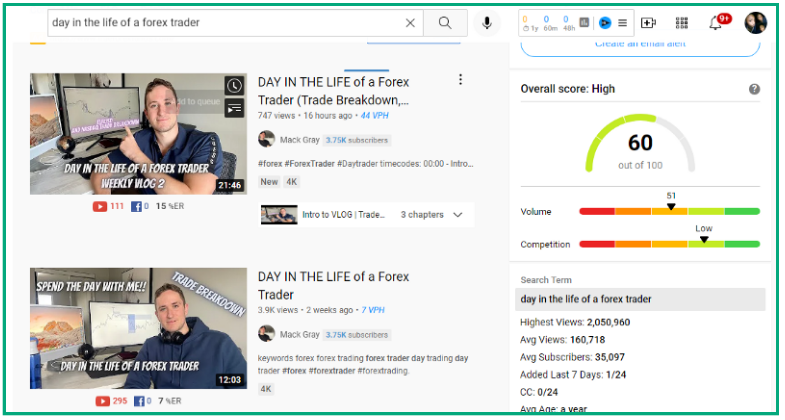 Trend alerts
Trend alerts show you videos that are trending in our niche.
When you sign up on vidiQ, they will ask you about 3 of your competitor's channels so they can understand what your niche is all about.
So these metrics and data were the reasons they show you videos in your space that are trending.
Track Your Competitor's videos
As I mentioned earlier, vidiQ tracks your competitor's videos and sees the most performing ones, and recommended them to you.
Why? so you can check out what they are doing and create 10x better.
Sign Up On VidiQ And Start Growing Your Youtube Subscribers.
How To Use VidiQ?
Keyword research is just one piece of the puzzle. you can just put a seed keyword into this tool and it shows you the search volume + other keyword variations that you can easily rank for.
The hard work only comes when you know and understand how to optimize your video the right way.
So am going to show you how to you can generate tons of keywords for your youtube video.
How To Use Vidiq For Keyword Research
The very first step is to pick a seed keyword… for example if you are in the Dog niche.
Type in any seed keed on Youtube search but don't press enter.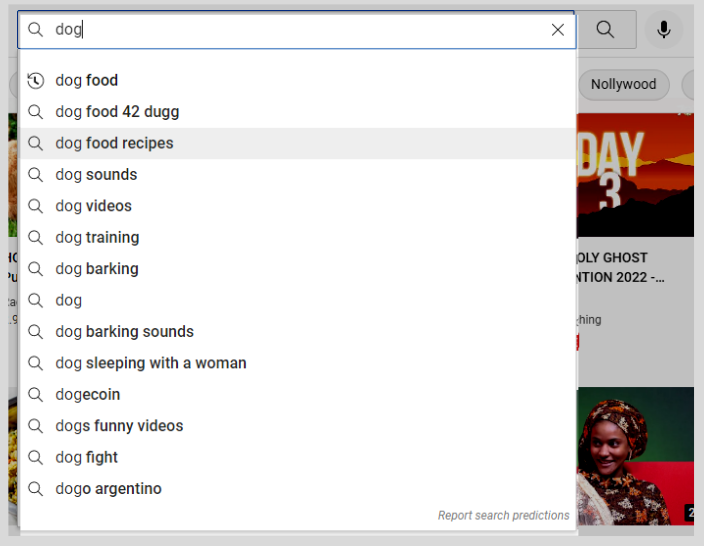 You just landed yourself a handful of keyword lists…and plug them into vidiQ to know how many people are searching for it on Youtube.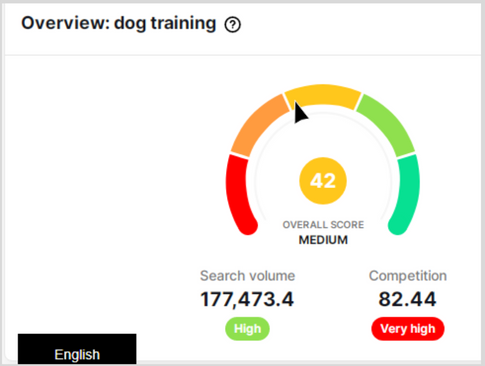 VidiQ shows you other variations of the keywords you typed into the tool. check out for low-competition keywords.
The lower the competition, the better chance for you to rank.
Found one? Good…. then add these keywords in your video Headline, Tags, and video description.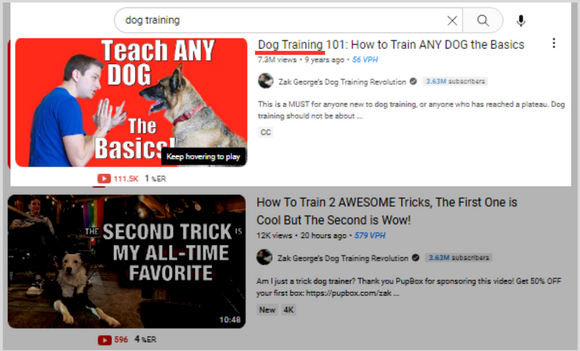 There you go.
But to get started, Sign up and create an account on VidiQ (It only takes less than 1 sec).
Connect VidIQ to YouTube Channel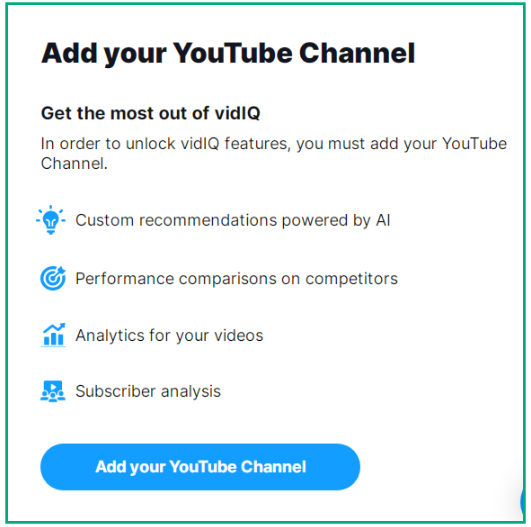 Once that is done, VidiQ will want to request access to your channel so they can track, monitor and understands what your niche is all about and recommend to you valuable information on how to improve the success rate of your channel.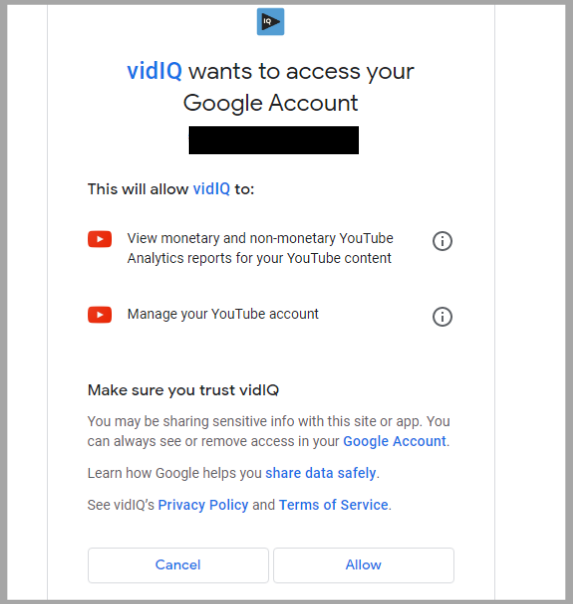 So you have to trust them on these, and vidiQ is also safe and trustworthy as well.
What is the benefit of VidIQ?
The benefits of vidiQ consist of the following.
Optimize your videos for higher rankings
Shows you trending videos in your niche
The vidiQ AI chatbot helps you create videos ideas, script videos, etc
Shows your keyword difficulties of keywords.
How Much Does Vidiq Cost?
To get started, You need to consider what plans you can use to kickstart your journey.
It basically consists of.
The Basic plan (Free)
Pro plan ($7.5/month)
Boost Plan ($39/month)
Max ($79/month)

Each of these pricing plans has its own limits & functionalities in terms of (numbers).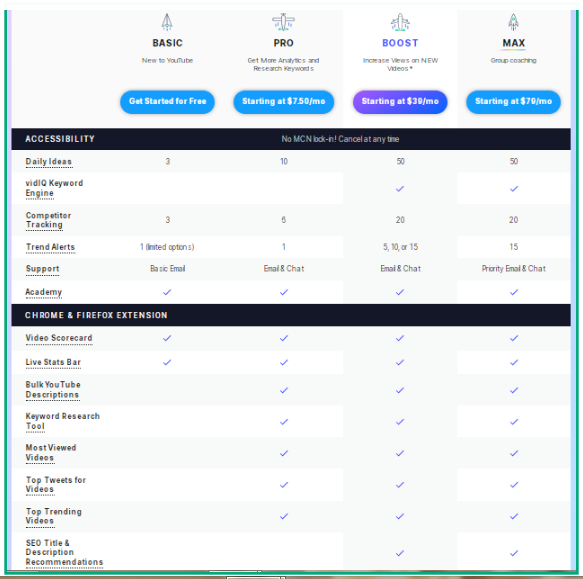 But you need to consider the pricing plan that suits your budget.
So this should not bother you as the pricing differences rely on (numbers).
There are some limitations in this pricing package on VidiQ, but their ultimate goal is to achieve the same results.
Sign Up On VidiQ And Start Growing Your Youtube Subscribers.
FAQ
Is vidIQ good for YouTube?
VidiQ is good for Youtube because it shows you lists of keywords your potential audience is searching for on Youtube.
Does VidiQ Has A Mobile App?
Yes, vidiQ has a mobile app for Android and IOS users who wants to leverage the tools from their mobile device not having a laptop is a barrier, and yes you can use vidiQ from the mobile app.
You can get a high score on VidiQ if you optimize your video to its peak by adding keywords to headlines, descriptions and activating Youtube cards, and uploading a thumbnail as well.
From experience, the Youtube vidiQ score doesn't count as much as it impacts a video but what matters the most is if you add keywords in headlines and descriptions, tags, and others in video optimization.
Disclaimer: This post contains affiliate links that service at no additional cost to you, read Our affiliate disclosure.