This is what 3000 backlinks can get you……..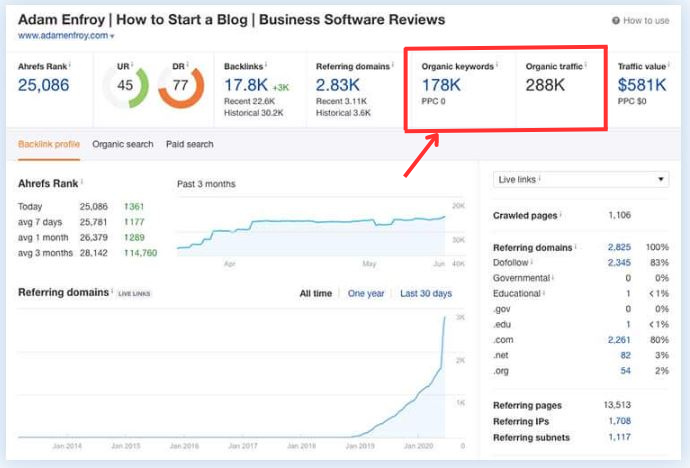 And how much you could possibly make blogging….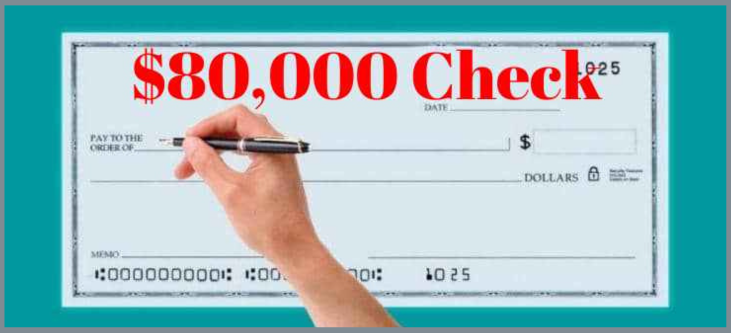 This doesn't happen all the time especially within a highly competitive niche, unless you happen to be someone like Adam Enfroy…
In order to understand how he achieved such remarkable results, I studied Adam Enfroy's link building techniques.
To see how he was able to achieve this insane results within a short period of time………
In shorts:
85 Guest posts in one year
3000+ Backlinks in 6 months
You'll get to learn about it in today's post because I won't be leaving any details out.
Keep on reading…
Adam Enfroy Link Building Tactics (3000 backlinks/44,000 Organic Traffic):
Getting 3000+ backlinks and getting 44,000 monthly visitors within the first 6 months of launching a blog comes with years of experience and budget, especially for beginner bloggers.
However, Adam Enfroy's success shows that it is possible even when starting out, it just all about understanding what works and double down on it.
So, what's the Adam enfroy link building secret formula?
75% of his efforts on building links and 25% on creating high-quality articles.
Because "Links are the currency of the internet", the more quality links, the better the chance to rank higher.
Let talk about how Adam enfroy was able to achieve this milestone………
 "Build Relationships" Instead Of Backlinks:
After blogging for over three years:
I've learned that when it comes to link building, nothing beats "relationships".
While amateur bloggers often see link building as merely reaching out to website owners for backlinks, professional bloggers understand that it's all about building and nurturing relationships.
In SEO, it's somewhat of a numbers game, but those who cultivate the right relationships are the ones who ultimately secure the most valuable links.
Adam Enfroy was a strong advocate of this approach, and even Ryan Robinson, the founder of Rybob, emphasized the importance of relationship-building in a recent interview session we conducted.
How These Techniques Earned Me (3+ Links):
Like i mentioned earlier, i was lucky enough to understand earlier on that
And this brought me 3+ do-follow links….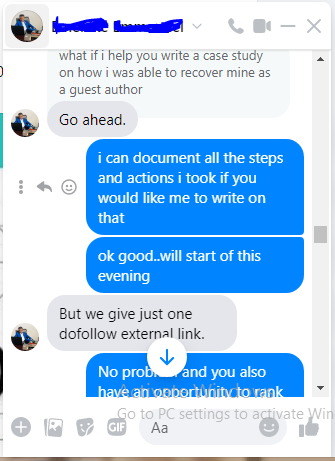 And brand exposure to my article…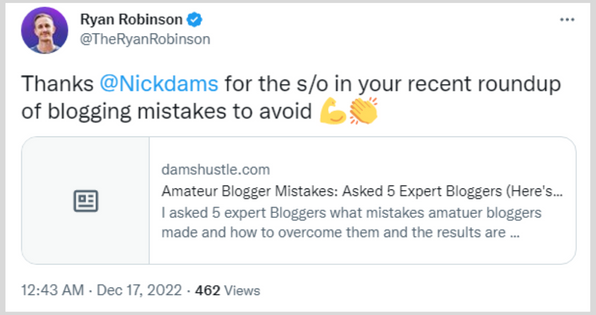 How To Do This:
Mention influencer Bloggers in your blog posts…….
Reach out to these influencer Bloggers letting them know you mentioned them in your article..
And then there's a possibility they will link to you just like they did to me…..
Guestposting On Steriods:
When launching a new website, acquiring links is crucial.
Guest posting serves as a valuable link-building strategy that keeps the momentum going, helping you secure those initial links you need.
But Guest posting today is not what we often assume to be.
It's more about a "value exchange" and "finding the right contacts to pitch your guest posts" rather than just swapping articles.
You can find a guest post oppotunity and still miss out because you pitched the wrong persons…
80% of the time, Reaching out through the about or contage pages of websites for guest posts can be an approach with low conversion rate especially big media sites or sites with more than 5 employes.
So where is the best place to find the right contact? Adam enfroy recommends "Linkedin"
If you're trying to connect with a blog or company and they have a presence on LinkedIn, then LinkedIn is your go-to platform.
Look for the Content Marketing Manager on their LinkedIn profile and send them a pitch.
Doing this will improve your chances of getting a direct response from someone who can publish your post.
Make sure your pitch is about a topic that hasn't been covered on their blog before.
Your content should be valuable and designed specifically for their readers.
brand objectives
Outsource To Freelance Writers:
Even though Adam Enfroy initially considered his blog a side hustle, he accomplished an impressive feat by writing a total of 85 guest posts in just one year.
This achievement was made possible through a strategy known as "scaling."
Scaling involves outsourcing content creation to freelance writers who handle the writing on your behalf.
While this approach does come with a financial cost, it ultimately saves you valuable time and increases efficiency.
The Power of Leverage-Based Link Building:
Adam introduces the concept of "leverage-based link building," a strategy he developed in 2020.
Instead of solely focusing on getting links, he advocates creating mutually beneficial partnerships where both parties gain value.
He explains that the key to successful link building is providing value to the other party.
In the world of barter and trade, people exchange goods and services based on perceived value.
Similarly, in link building, websites should exchange links when there is a clear value proposition for both parties.
Find "Your" Leverage Points:

"In the initial stages, you often find yourself without any leverage or established connections.
When you approach brands to request backlinks, it's crucial to have a strong leverage point that positions you for success.
This leverage point could stem from several years of expertise in a specific field or domain.
Having a substantial leverage point significantly enhances your chances of securing backlinks when you're just starting out."
Links Exchanges:
Securing 85 guest posts in a year alone may not necessarily result in 3000+ links.
To maximize your link-building efforts, you need to be strategic about it, just as Adam Enfroy did.
What's meant by "link exchange" is the practice of linking out to other bloggers from your guest posts and then reaching out to them, asking them to link back to your content.
With this approach, one guest post has the potential to earn you 2-3+ dofollow links, and I can explain how this works if needed.
How These Techniques Earned Me (2+ Dofollow-Links):
I conducted a random survey by exploring the internet to find out how much money Nigerian bloggers were earning.
Afterward, I created a list of bloggers in my field who could potentially link to my content.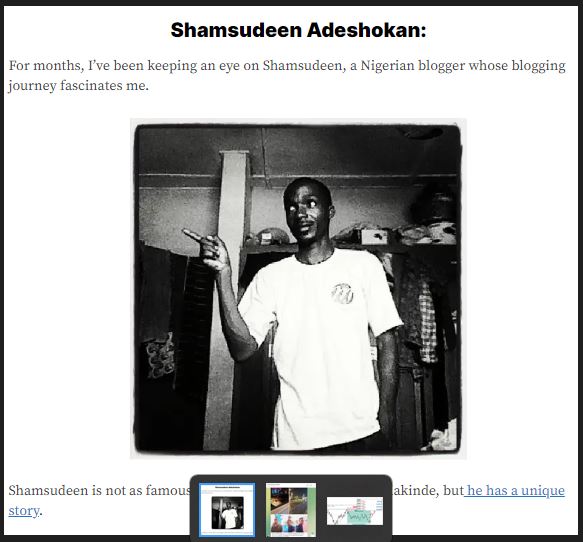 I included them in my post and reached out to let them know I had mentioned them.
As a result, I received a valuable dofollow link.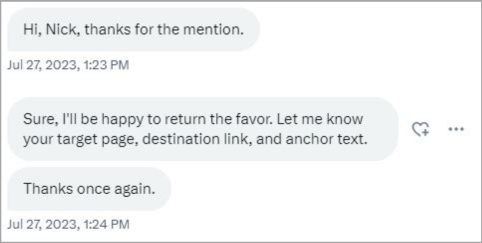 Adam Enfroy Experience:
Adam Enfroy has a background knowledge in digital marketing.
He gained experience by working as an affiliate manager at BigCommerce, where he excelled in overseeing thousands of affiliate site owners promoting the BigCommerce brand on their blogs.
Adam was particularly captivated by the substantial earnings these bloggers were achieving while working with BigCommerce.
This inspiration led him to launch his own blog in 2019, which has since evolved into a seven-figure business, generating an impressive monthly revenue of over USD$400,000.
On his YouTube channel, Adam generously shares his knowledge in various domains, including SEO, advanced affiliate marketing, and blogging.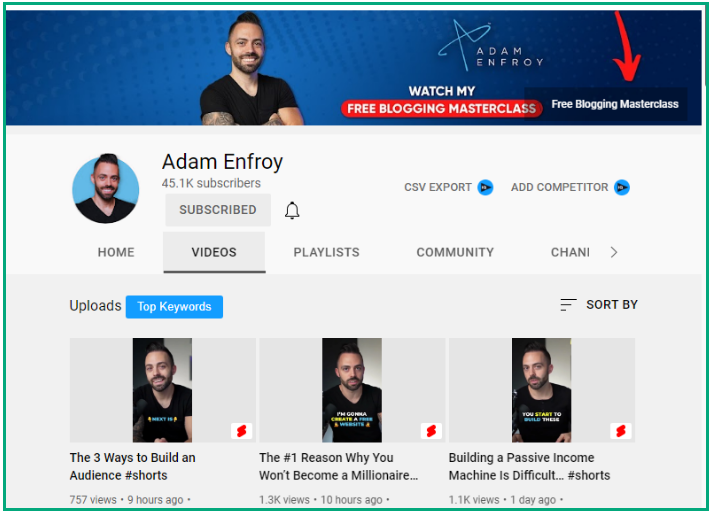 He has played a pivotal role in guiding over 4,000 students in his Blog Growth Engine course, teaching them the ins and outs of initiating and expanding profitable blogs.
Conclusion:
In summary, Adam Enfroy's link building success is built on the principle of providing value and creating mutually beneficial partnerships.
Understanding the factors that determine link value and embracing leverage-based link building strategies can help bloggers and website owners scale their influence and achieve success in the competitive online landscape.